Cinnamon Baked Apples Recipe
Whatever it is you're looking for, you'll see how amazingly simple it is to learn how to bake apples in the oven to perfection
Posted: 9th of July 2019
On a cold winter morning, there is nothing quite like a warm cinnamon baked apples breakfast to start the day, or a baked apples dessert when it's cold outside. Whether its baked apples slices or whole baked apples stuffed with delicious ingredients like the ones in this recipe, the melting, juicy fruit mixed with the cinnamon, spice and nutty crunch is just wonderful when hiding away from cold weather, looking for a recipe to make with the kids, or just as a quick and hassle free healthy dessert for yourself when you're looking for something to fill those sweet cravings.
The other thing that makes this quick dessert recipe so great is that it makes genuinely healthy baked apples. This is because this recipe is for no sugar baked apples. We've seen plenty of recipes where the apples are either rolled in white sugar or have it sprinkled all over the top, but by making these baked apples without sugar, we are making this recipe safe for diabetics. More than that, we're showing that you can absolutely have your cake and eat it, in a sense. Cutting out processed sugar does not mean that you have to cut out flavor as well! Plenty of wonderful natural ingredients come together to bring a lovely sweet kick without processed sugar.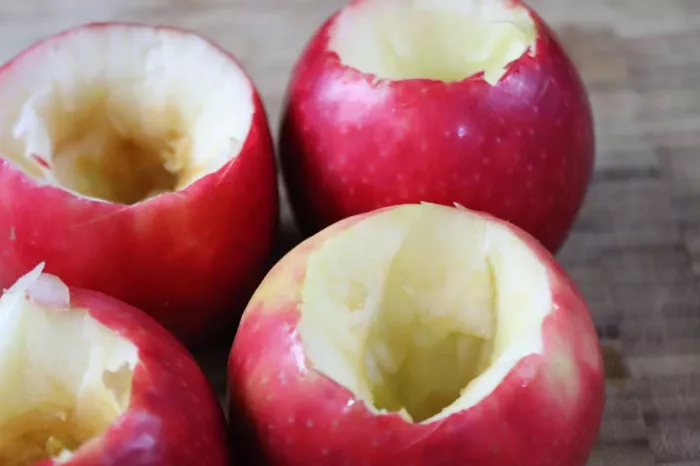 One factor that contributes towards the sweetness in a sugar free baked apple recipe is the type of apples that you use. Many wonder what are the best apples for baked apples recipes like this, and we have the answer. Pink Lady Apples. You can absolutely make Granny Smith baked apples, or use the cheapest red apples that are available, and we're sure that will turn out just fine. In fact, there are so many different types of sweet apples you can choose from: Gala apples, Honeycrisp, Red Delicious, Fuji apples, the list goes on. But for us, we would go straight for Pink Lady apples, no questions asked.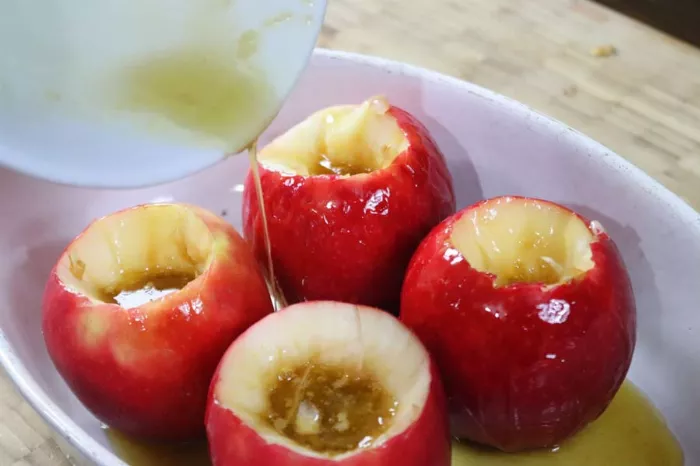 The reason why we would choose Pink Lady apples is for their incredible sweetness. They really are wonderfully sweet. I know that I've even found them too sweet to eat on their own sometimes, but when they are spiced, covered in beautiful ingredients and baked to perfection, that sweetness is unlike any other type of apple and really sticks out among the flavours. Also, Pink Lady apples have a great colour and aren't overly sour or sharp. They have a beautifully balanced taste, and they are definitely the type we would try to get hold of for this healthy baked apples recipe.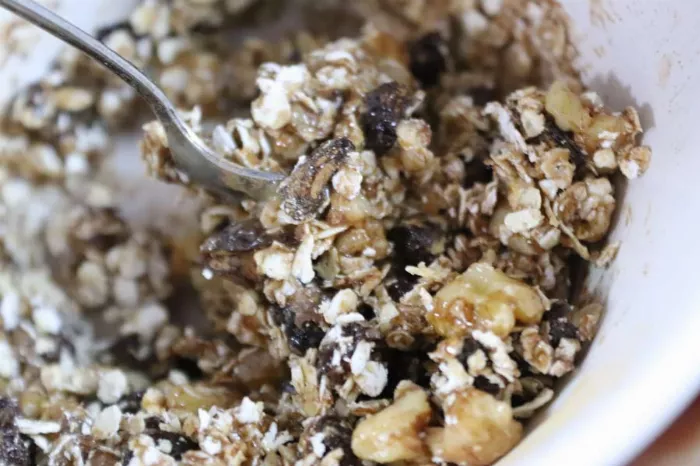 Removing the core from the apples is not as difficult as it may sound. If you have an apple corer, that's great! Otherwise you can use a small sharp knife to cut into the apple, and then use a teaspoon to scoop out the hard centre and the pips. If you're not sure what to do with this, have a look at our video below where we demonstrate how to make this recipe step by step.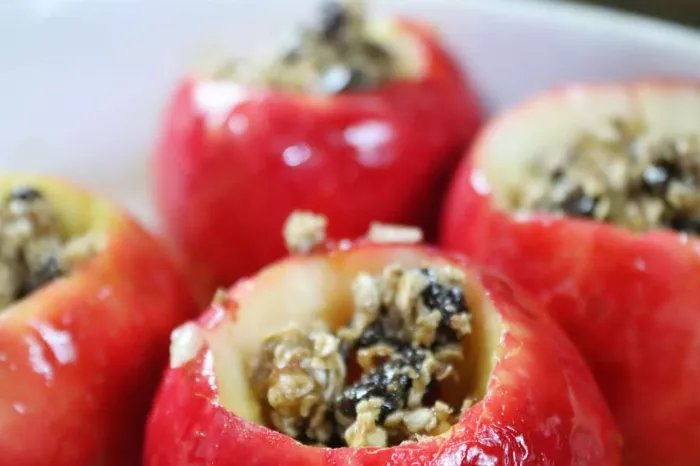 When it comes to having these baked apples stuffed, we want good quality, natural ingredients to come together to make a delicious granola-like mixture that will really contribute to the flavors of the sugarless baked apples. We start with oats. Again, warm oats just make us think of having a cozy breakfast on a cold winter morning, tucked away indoors next to the fire. You can get milled oats, which have been chopped and ground down, so they're a bit smaller and more powdery. If you have these, they'll work fine. But we bought big, jumbo oats for this recipe. They just help to make the end result more crunchy and satisfying. If you need to pick some up, we'd recommend the biggest organic oats you can get hold of. You won't regret it when you taste it at the end. A great addition to the stuffing in a diabetic baked apples recipe is raisins. Dried fruit is a fantastic way to get that sweet, satisfying kick with something that only contains naturally occurring sugars. We found that buying good quality, organic raisins really does make a difference in this recipe. They tend to be much bigger, juicier and full of flavor than regular raisins, and that goes a long way in a sugar free recipe like this. Raisins combine with the oats and spices to create a soft, warm, natural texture with a burst of juicy sweetness and a tiny bit of tang.
While we have decided to use raisins here, you can include any dried fruit you like for your baked apples' stuffed centre. Some people like to use dried apricots, some like to use cranberries, or even dried strawberries and raspberries, if they're easy enough to get hold of in your area. They are difficult to source where we come from, but if they were easier to find, we'd be constantly stocking up on dried strawberries and raspberries, believe me. Regardless, apple has an interesting taste that combines wonderfully with a wide variety of different fruits, so choose whatever works for you. For now though, we'll stick with the raisins. Something about the simple flavour combination is so very cosy and comforting. Moving on to the spices - another flavour which contributes greatly to the warm, cosy feeling we're going for here is cinnamon. It's easy to overdo it with cinnamon, and you'll know if you have or not. But when you use just a little to combine with everything else, you'll find it provides a brilliant flavour boost. It's earthy and warm, and really matures and mellows the sharp sweetness of the apples.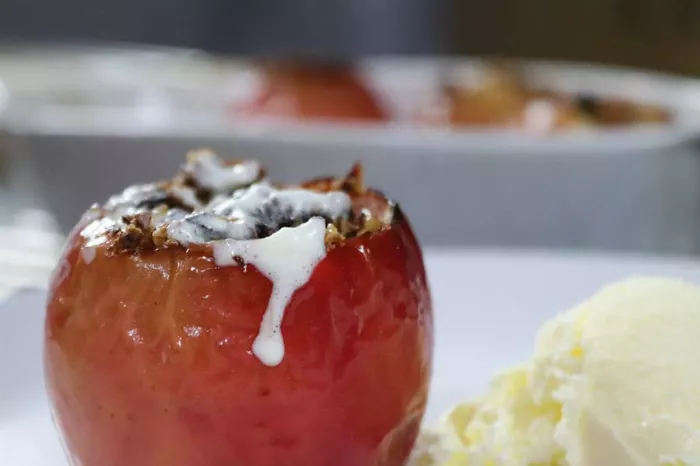 Cinnamon has been used for a long time through history, and even today is viewed as so good for you that it is considered a medicine in some places. This is due to it being full of antioxidants, such as polyphenols. It is claimed to help reduce the risk of heart disease, diabetes and high cholesterol. And it has anti-inflammatory properties, which can assistant the body to fight infections and help with healing damaged tissue. So not only is it delicious, it's a fantastic ingredient to be using as part of a healthy diet.
Nutmeg is another one of those warm, cosy spices that just adds the right sort of kick and flavour to a dish like this. It is also a wonderful compliment to the freshness of apple in a low sugar baked apple recipe. The difference between nutmeg and cinnamon, and the reason why they are not exactly substitutes for each other, is that while cinnamon comes from the inner layer of bark from a genus of tree called Cinnamomum, nutmeg comes from the seed of a – you guess it – nutmeg tree. These differences in origin mean that the flavour is subtly different. Nutmeg is ever so slightly sweet, and has a nuttiness that cinnamon doesn't possess. It isn't quite as aromatic as cinnamon, but adds a wonderful layer of flavour that cinnamon can't manage on its own, that's why you'll see us so often combining the two together in recipes.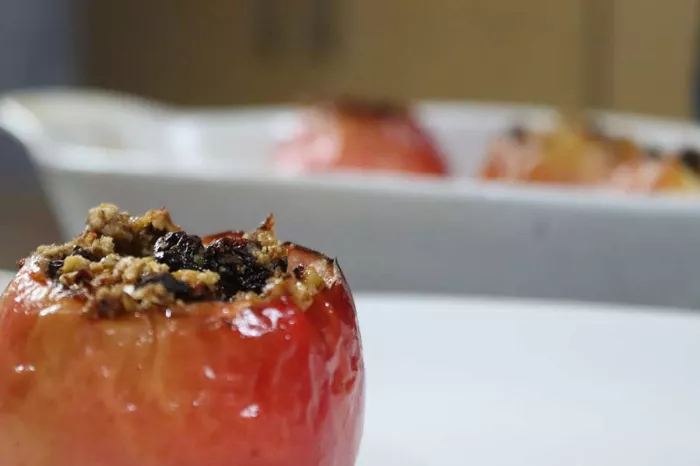 Nutmeg also has a number of health claims attached to it. It is claimed to help relieve pain, insomnia, and indigestion, to detoxify the body, to support skin health and improve blood circulation, among many other things. This is so important to us because we love to include ingredients that ensure that our sugar free recipes are not only treaty and delicious, but as guilt-free as possible, and packed with nutritional support. Oats, cinnamon, nutmeg and raisins are all fantastic ingredients for this sugarless baked apples healthy recipe, but it's all very soft so far. There's nothing like biting into the sweet juicy apple, through the soft oat mixture, and being greeted by a subtle bit of crunch. We've added this with a small handful of walnuts. We didn't give exact measurements because we want you to decide for yourself how crunchy you want your baked apples dessert to be. Walnuts are unlike other nuts in that they are smooth and buttery. They have a delightful texture, with just enough crisp to be satisfying – a bit like the texture of breakfast cereal. This works so well when combined with the other textures going on here.
Of course, walnuts are our choice for this baked apples recipe, but you can use whatever nuts you like! We like the subtle crunch of walnuts, but if you like the aromatic snap of peanuts, the crunch of hazelnuts, or the soft bite of pecans, please feel free to add whatever you like! There are no hard and fast rules, but if this is your first time making this recipe, we would really recommend trying the walnuts, and adjusting the recipe as you see fit. Vanilla extract is a fantastic ingredient to have on hand when you are on a sugar free diet. It really brings everything together perfectly, and is incredibly versatile, contributing a wonderful layer of flavor to practically any dessert recipe. In fact, I can't think of a single dessert where a splash of vanilla wouldn't work. The only thing that you have to be careful about is checking the packaging to make sure what you are buying really is sugar free vanilla extract. It's not that vanilla extract without sugar is difficult to find, it's just that you need to check. It will say straight away if there is any sugar or syrup included. If not, then you're good to go!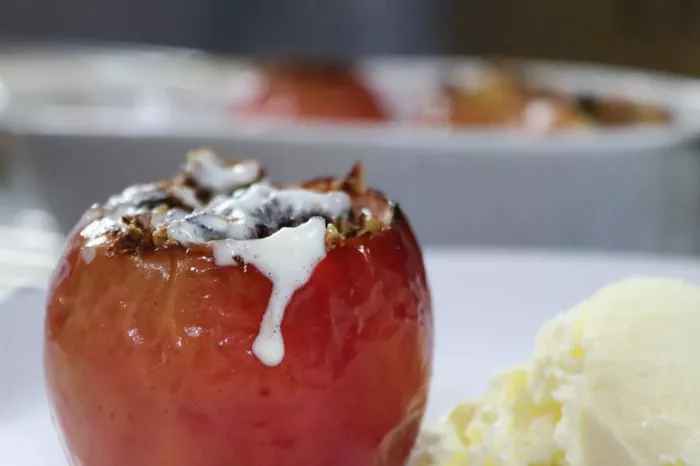 A key ingredient for this cinnamon whole baked apples recipe is honey. Honey is an incredibly versatile and popular substitute for processed sugar. It is sweet, sticky and absolutely delicious. If you're looking to make healthy baked apples slices then the process is just the same, but instead of stuffing the apples, slice the apples up, and mix all the ingredients together. Lay everything tightly on a small baking tray and bake until soft. The flavours will be infused into all the baked apple slices and it will make a wonderful dessert. Finally, we would recommend serving this with our vanilla ice cream. They go amazingly together, particularly if you have guests. Serve fresh from the oven and enjoy!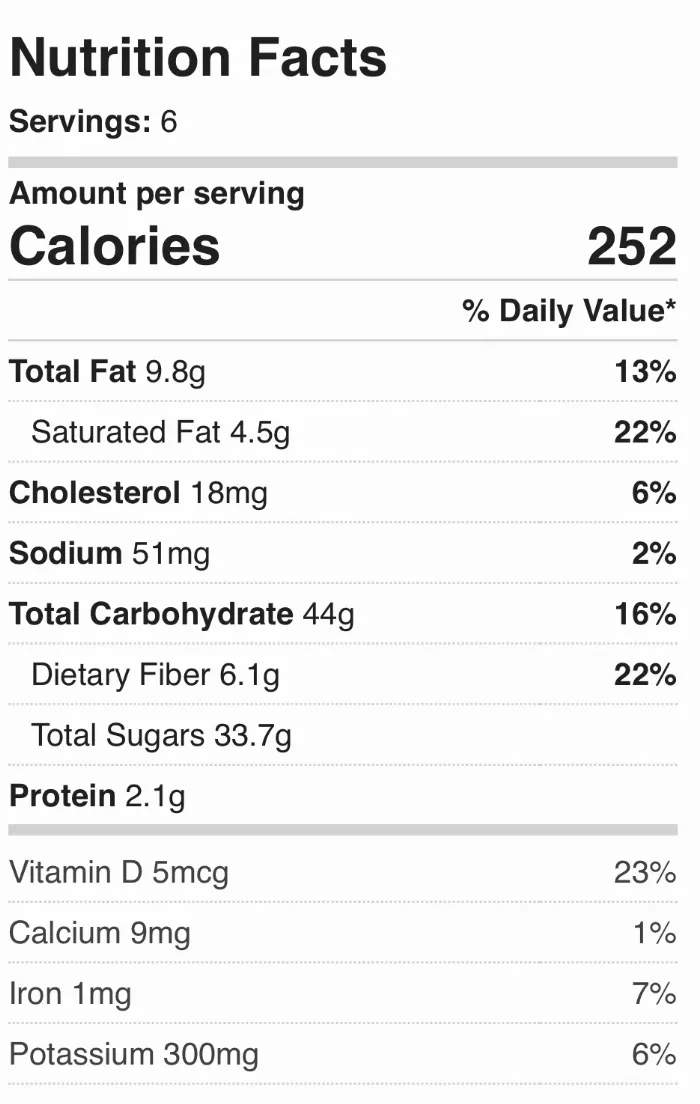 Cinnamon Baked Apples Recipe
Recipe Category: Dessert
Recipe Cuisine: Bulgarian
Prep Time: 15 mins
Cook Time: 25 mins
Servings: 6
Calories: 252
Rating: 5 from 10 votes
INGREDIENTS
6 cored Apples
3 Tablespoons Oats
2 Tablespoons Raisins
Small Handful Walnuts
1 Teaspoon Cinnamon
1 Teaspoon Nutmeg
1 Teaspoon Vanilla Extract
50g melted Butter
3 Tablespoons Honey
RECIPE METHOD
Preheat the oven to 160c (320F, gas mark 4)
In a small mixing bowl, combine the oats, raisins, walnuts, cinnamon and nutmeg
In another bowl, combine half the butter, vanilla extract and melted honey, then mix into the oat mixture
Simmer the apples in a little water for 5 minutes, then coat the apples in the remaining honey and butter, place in a baking tray or ovenproof dish and stuff with the oat and honey mixture
Bake the apples in the oven until soft, either baking them openly or with a crockpot lid on, depending on how soft you like the apples
Serve warm, maybe with our sugar free vanilla ice cream
Really Sugar Free Recipe Video:
Be the first to comment...