REALLY SUGAR FREE
Easy Sugar Free Recipes. Healthy, Natural Ingredients. No Artificial Sweeteners.
This homemade, healthy salad dressing recipe is easy and delicious without sugar
Homemade Healthy Sugar Free Salad Dressing
Posted: 22nd December 2019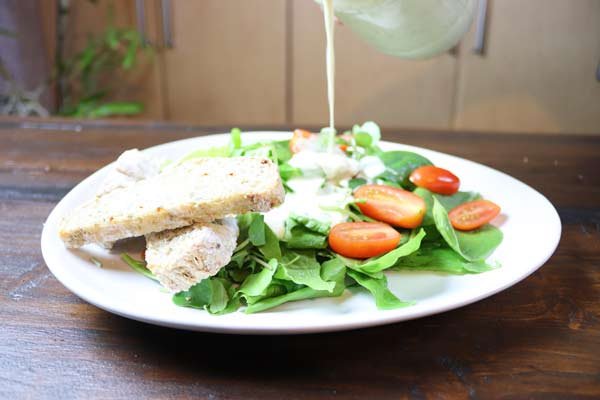 If you're diabetic or on a sugar free diet, you've likely come across the difficulty of finding a sugar free dressing for salad in a store or supermarket. You will find a lot that claim to be a healthy salad dressing. Even online, you can find lots of recipes that say they are healthy salad dressing recipes, but finding just one salad dressing without sugar can feel impossible! Even the sugarless salad dressing recipes and store bought bottles tend to add artificial sweeteners instead, and many people prefer to avoid artificial sweeteners, just wanting a homemade healthy dressing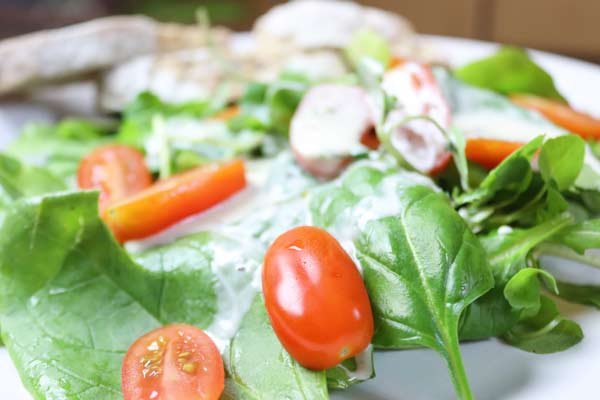 But don't worry! This easy healthy salad dressing recipe is a sugar free, diabetic, and heart healthy salad dressing. Not only that, but it's absolutely delicious and really simple. When people see a good healthy salad dressing, it can seem really complicated and can look like a lot of thought and effort has gone into it, especially when they taste it. The first bit of good news is that that is how your guests will react if you serve this salad dressing at a dinner party! And the other bit of good news it actually isn't really complicated at all and doesn't take a lot of effort – so good news all around!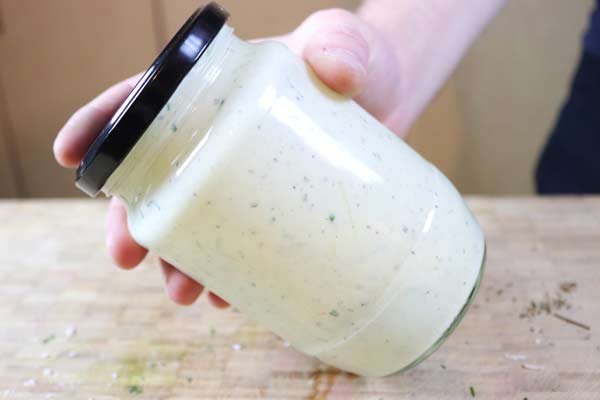 With this no sugar added dressing, the only thing that is worth a bit of effort is sourcing your ingredients. It's obvious that with any recipe, the better the ingredients, the better the end result will be, and that is no different with this sugar free salad dressing recipe. There are some herbs in this recipe that we've noted down as dried and some that we've noted down as fresh. This is really based on what tends to be available in most places, but if you can manage to source all the herbs fresh, then all the better! There are such delicious ingredients that make up this no sugar salad dressing. You'll love how they all come together to make a healthy creamy salad dressing
A really important base ingredient for low sugar dressings is the vinegar. We chose apple cider vinegar because it's ever so slightly sweeter and a little less potent than other vinegars that are available, and that's definitely a plus in sugar free salad dressing recipes. It has a lovely warm honey color which mixes with the other ingredients to help to give the finished dressing a wonderful, tasty-looking hue. But if apple cider vinegar is not widely available in your area, you can likely substitute it with balsamic vinegar, or another vinegar that you particularly like. It's really your choice – experiment a little and see what works for you
Another reason we particularly like apple cider vinegar is due to the claimed health benefits. There's been quite some study into apple cider vinegar, and some interesting things have popped up about it. Organic, unfiltered apple cider vinegar has strands of protein, enzymes and gut-healthy bacteria left in the mixture, which gives it that soft, cloudy appearance. Due to this and other things, some studies claim that apple cider vinegar can help to lower blood sugar and fight diabetes. It also apparently helps with weight loss, lowering cholesterol and looking after the heart. So when it comes to a homemade healthy salad dressing and a healthy salad dressing for weight loss, apple cider vinegar is a great ingredient to use
The other base ingredient that is vital when looking how to make a healthy salad dressing is olive oil. Again, if you want to make the best healthy salad dressing, then get the best olive oil you can find. You can get fairly cheap olive oil, but the taste will show that it is cheaper. Great quality, organic olive oil can get expensive! When looking online, we found some incredibly fancy bottles that were only 500ml of olive oil, but the price was reaching around $250! Don't worry, we're not suggesting you break the bank for one of those bottles because organic olive oil is easy to find for very reasonable prices, but it just goes to illustrate how much olive oil is loved across the globe
One reason why olive oil is so loved, aside from being absolutely delicious, is what studies have said about it. Olive oil contains large amounts of antioxidants, which can help to fight inflammation and help reduce the risk of heart disease. Chronic inflammation has also been linked to a number of different diseases, and so reducing it is important. That's why the Mediterranean diet, which is claimed to be an extremely healthy diet and lifestyle, uses a lot of olive oil because of its anti-inflammatory properties. It's also rich in omega-6, omega-3 and monosaturated fats
For creamy, thick healthy salad dressing like this, we want to use a good half cup of mayonnaise. Mayonnaise adds a wonderful texture to salad dressing and helps it sit on top of the salad leaves rather than sinking in and potentially making the salad leaves soggy. It also helps to dilute the vinegar and oil to soften the flavors and make everything a little more subtle and lovely, and that's great if you're not a fan of very sharp or sour salad dressing. We absolutely love Italian and French cuisine. Italian and French salad dressing recipes often use mayonnaise, and you'll see why they do when you try this recipe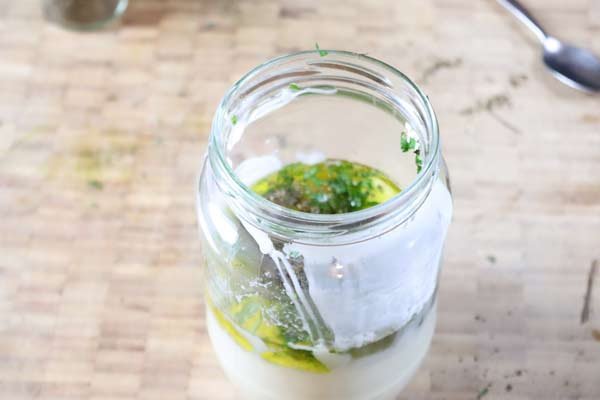 The only problem with mayonnaise when you're looking to make a salad dressing without sugar is that pretty much any mayonnaise that you will buy from the store has sugar in it. Even if it is a zero sugar salad dressing or a sugar free mayonnaise, or even a low sugar dressing it will often contain artificial sweeteners. We have a recipe for sugar free mayonnaise made from all natural ingredients that is so incredibly simple you won't believe it. We honestly wouldn't ever buy mayonnaise again after we found how easy it is to make at home. Check out the recipe and see for yourself and you'll have a choice of low sugar salad dressings
Garlic is a wonderful flavor. When cooking at home, we have been known to put in a clove or two too many into a dish. But with all that aside, don't be afraid to put even more garlic than we suggest in this salad dressing, because it will just enhance the taste amazingly. We have suggested garlic powder because many prefer the ease of garlic powder, but if you want to use fresh garlic instead, we would recommend that
The first herb that we want to use is Basil. Basil has such a strong aroma that adds a wonderful layer to this no sugar salad dressing recipe. It's a very distinctive herb that is commonly used in Italian recipes because of its flavor. We really do like using it as an ingredient because it adds such a lot to a recipe without taking over the other ingredients. We would definitely use fresh basil if it's available to you, however if you have no choice but to use dried basil, that will be fine too
Basil has a number of healthy benefits attached to it too. Studies claim that it is good for digestion because of the eugenol present in the leaves. It can have anti-inflammatory properties, which is great when paired with the olive oil, which also has anti-inflammatory properties – both very popular ingredients in the Mediterranean diet. It has a lot of antioxidants, a low glycemic load, and can apparently help detoxify the body and maintain skin health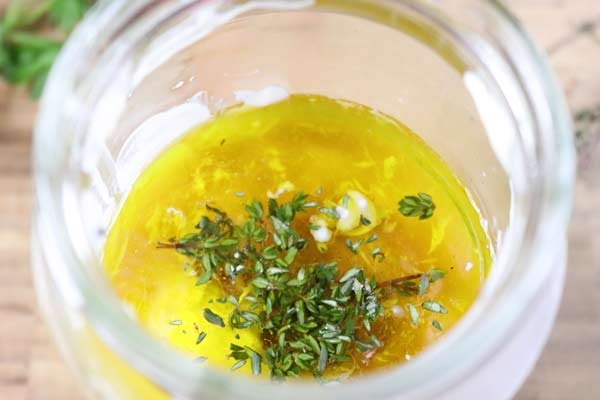 The second herb we have added to this sugar free salad dressing recipe is thyme. The aroma of thyme is somewhat like a savory lavender – it's delicate and subtle, earthy and even a little sweet. However, just like lavender, it is unmissable as a taste and scent, and can feel very calming. It looks amazing too. A little pot of thyme growing in the corner makes your kitchen feel very rustic and authentic, and it's always there to use when you need it - it goes with all sorts of recipes. Dried is ok, but it's the only herb where there is quite a difference when it's dried. Fresh seems to infuse its flavor a lot better than the dried counterpart
Thyme has been considered a medicine in some cultures throughout history, and a number of recent studies back up it's benefits. Apparently, it can help to lower blood pressure, can help with chronic cough issues, and because of the active carvacrol content, the aroma is supposed to have therapeutic benefits for mood control. When all of this is considered, Thyme is another great addition to this sugar free salad dressing recipe
Our third herb that we want to add to this no sugar salad dressing is parsley. Parsley is a really interesting herb because it's not something that is necessarily enjoyable on its own, because it can be quite bitter and unusual. But the fact that it is so distinctive can really help recipes by adding balance to a recipe. It brightens and enhances the other tastes and is a great flavor to combine with others. Combine it with some softer herbs and a good amount of garlic, and the flavors will really pop out
The final herb we'll be adding is oregano. It's a very versatile herb with an aromatic, earthy, even an almost minty flavor. Again, this is a very popular herb in Italian and French cuisine, and for good reason! It adds maturity to a recipe, and a unique level of flavor that is difficult to replace with anything else. We've used oregano for a number of ingredients, most notably our sugar free pizza sauce recipe, and we will go on to use it in many more! Oregano is difficult to source as a fresh herb in some places, especially the area we live, and so dried oregano is probably the way to go for most people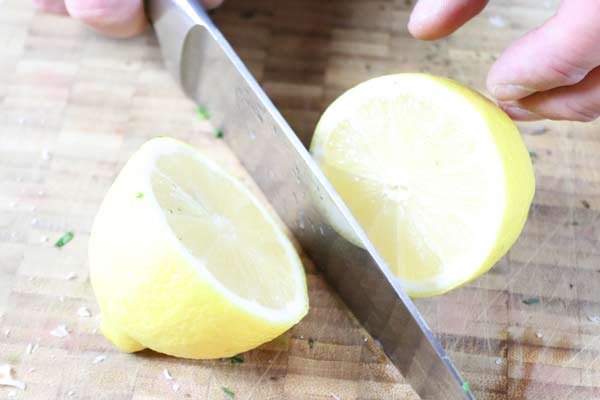 Much like parsley, lemon juice is one of those ingredients that combined with other ingredients, it can really come to life and make a recipe wonderfully balanced and delicious. There are a lot of earthy elements to this salad dressing sugar free recipe, and so lemon juice adds a little tartness and sharpness that really helps bring everything together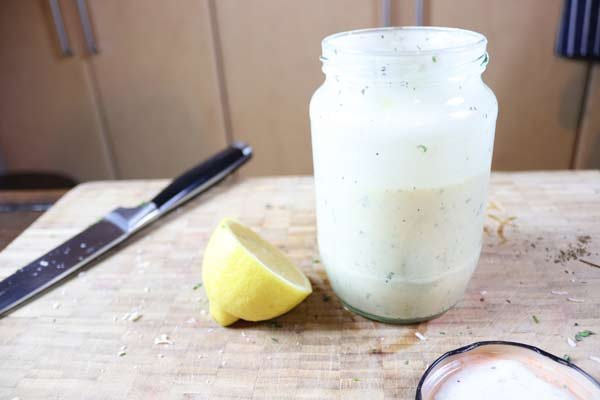 After all these very aromatic ingredients, we want to add a little creamy softness to this sugar free salad dressing. For that, we are going to add parmesan cheese. We absolutely love parmesan cheese! Its taste is nutty, melty, and even a little bit fruity. Grated into this no sugar salad dressing recipe, it really makes a big difference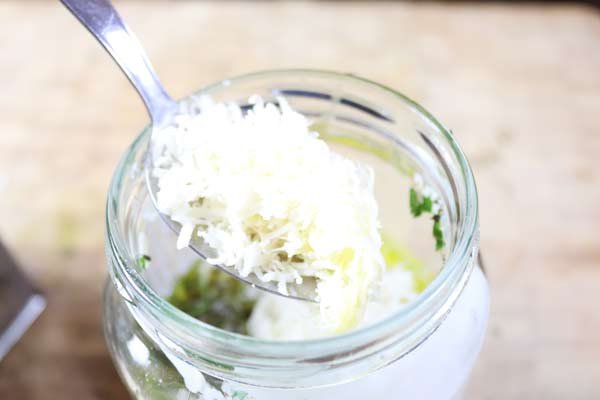 Optionally you could use some raw, unprocessed honey to add a little sweetness without using sugar, but it's just as delicious without to make it even more of a low sugar salad dressing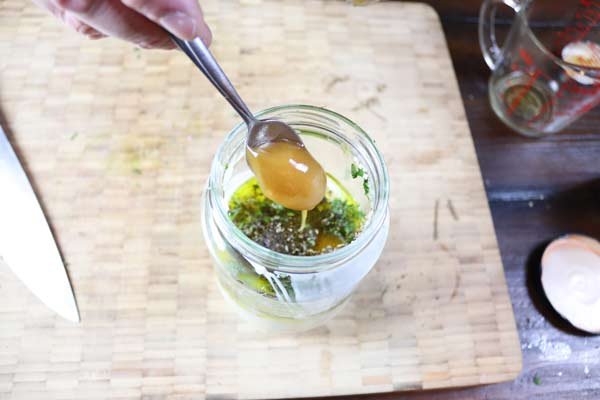 This is such an easy salad dressing to make. The ingredients are important to get right, but actually making it couldn't go wrong. You shake everything together and you're done! So, you can make it again and again in no time at all whenever you run out. Enjoy your 0 sugar salad dressing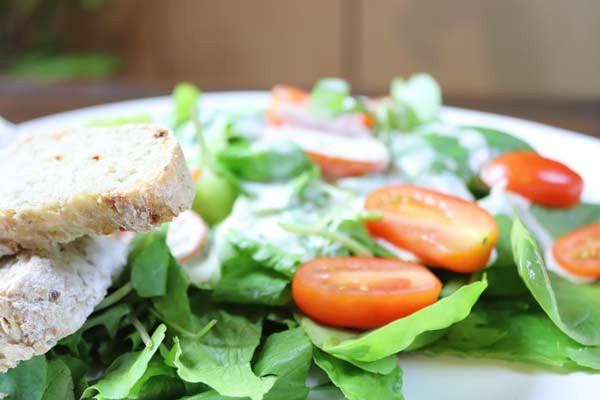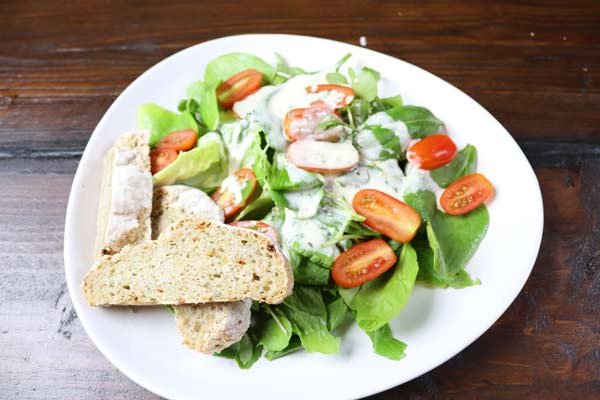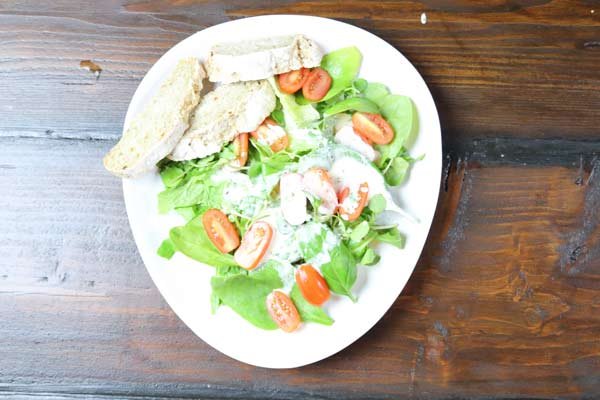 Homemade Healthy Salad Dressing | Zero Sugar Dressing
Recipe Category: Dressing, Sauce
Recipe Cuisine: Italian
Prep Time: 10 mins
Cook Time: 0 mins
Servings: 20
Calories: 60
Rating: ★ ★ ★ ★ ★
INGREDIENTS
1/4 Cup Apple Cider Vinegar
1/3 Cup Olive Oil
1/2 Cup Natural, Sugar Free Mayonnaise
1 Teaspoon Garlic Powder
6 Leaves Fresh Basil
6 Leaves Fresh Parsley
Leaves of 2 Sprigs Fresh Thyme
1/2 Teaspoon Dried Oregano
Juice of 1 Lemon
1/4 Cup Parmesan Cheese
Salt
Pepper
RECIPE METHOD
Find a large container with a lid that screws on, like a mason jar
Pour the vinegar and olive oil into the container
Add the mayonnaise. If you want to make your own homemade sugar free mayonnaise, it really couldn't be easier – take a look at our recipe for sugar free mayonnaise
Add the garlic powder and dried oregano, the fresh basil and parsley leaves, and then scrape the leaves from 2 sprigs of thyme and place these in the container with everything else
Squeeze the juice of 1 lemon into the mixture, and then grate in the parmesan cheese
Add the salt and pepper to taste
Screw the container lid on tightly and shake vigorously until everything is smoothly combined. Pour your desired amount over a crisp salad. Refrigerate for up to 3 weeks. Enjoy!
Really Sugar Free Recipe Video: