REALLY SUGAR FREE
Easy Sugar Free Recipes. Healthy, Natural Ingredients. No Artificial Sweeteners.
Just four simple ingredients go into this homemade easy mayonnaise recipe and it only takes seconds to make. And it's delicious
Sugar Free Mayonnaise Recipe
Posted: 5th December 2019
Sugar free mayonnaise is so easy to make from home. You could finish making this healthy mayo recipe in the time it would take to go to a shop and buy a jar of mayonnaise – and even then, the store bought mayonnaise wouldn't nearly compare to this recipe. Seriously, if you've never tried a homemade no sugar mayonnaise recipe before, you are in for a treat. It's so simple and delicious – we'd never go back to buying mayo from the store when a mayonnaise healthy recipe such as this is done so easily
Some people get completely addicted to mayonnaise and it's easy to see why – mayonnaise, especially healthy mayo like this, can be used on just about anything. It's perfect in burgers, or for dipping chips or other things in it, it's essential for coleslaw, for salad dressing, for potato or tuna salad. Many just get the mayonnaise out the fridge no matter what meal they're having and drop a spoonful on their plate ready to combine with everything they're eating. It really is a versatile condiment to have on hand - there's no need for sugar in mayonnaise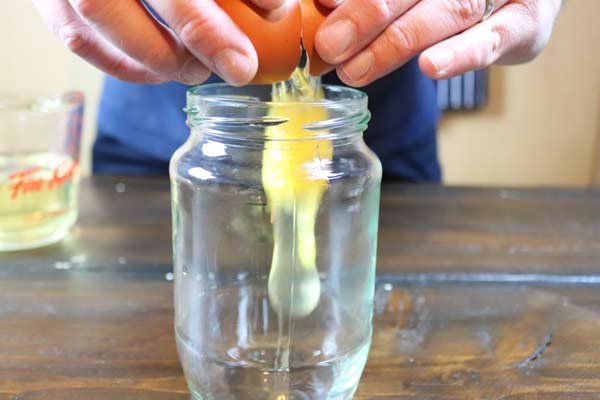 Does mayo have sugar? Usually yes, if bought from a store. But because it's such a great condiment, it's a good idea to learn how to make sugar free mayo, and just to see how simple it is. When no sugar mayonnaise is so easy to make, you can just keep making it and always have a batch ready in the fridge. And just to mention mayonnaise and diabetes, because we make this mayonnaise without sugar, it means that this is a heart healthy mayonnaise recipe and a diabetic mayo, so you can bring out the jar when you have guests, no matter who they are
If you have a big family, it's easy to see how this low sugar mayonnaise could disappear in no time! But don't worry, it's such a quick and simple recipe, it's easy to double up the ingredients for how ever many people there are to feed. If they like it, this could even be a great recipe for kids, as long as they have supervision with the immersion blender. It's quick, gloopy and just a tiny bit messy – we bet they'd love giving it a go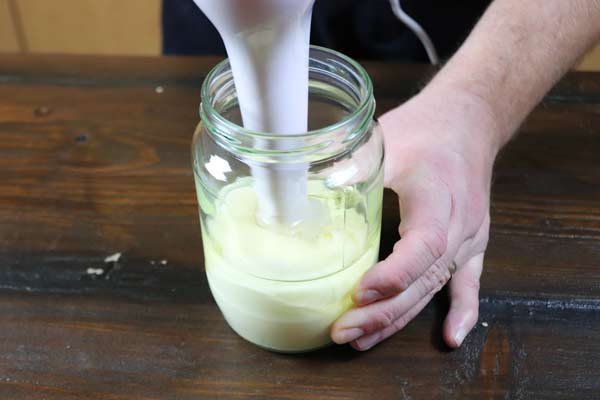 Another reason why this is such an easy homemade mayonnaise recipe is that there is barely any washing up! We make everything in a mason jar or other container that has a lid that can be screwed on. Everything goes in the jar together and is blended up and that's pretty much all there is to it - wash the teaspoon and the immersion blender and you're done! Even when it comes to making another batch of mayonnaise, just wash out the jar you used before and start again. Once you've done this once you'll see how there's just no need to be buying mayonnaise when it's this easy
In a day and age where we often don't know exactly what's in the food we're eating, making things like homemade mayonnaise really does feel great, and helps keep food in the house clean and healthy. Just one look at the back of a regular jar of mayonnaise you would find at the store, and you'll see oil, egg, vinegar and salt, which is fine, but then the list carries on with additives and flavorings. Do we really need to be eating these things? We think it's so much better to learn how to make your own mayonnaise where you've handpicked your ingredients, you know what quality they are, where you bought them, and exactly what's going into your food
The other thing that shows up on the ingredients list is sugar. Many people are intolerant to refined sugar, so buying mayonnaise becomes difficult. If they wanted to buy sugar free mayonnaise they'd end up with brands that replace the sugar with artificial sweeteners. But after some trial and error, it became apparent that these artificial sweeteners and other additives were just not necessary for a delicious sugarless mayo recipe
The reason for this is that a simple combination of the ingredients we have listed here – egg, oil, vinegar and salt – create exactly the flavor you'd want in a good quality mayonnaise. It really doesn't need sweetening. We understand that many companies will add sugar or other additives in order to preserve the mayonnaise and extend its shelf life, but thankfully, the benefit of making your own sugar free mayo is that you don't need to worry about things like that! It will happily last a couple of weeks in the fridge. Now, whether it's going to last that long without being eaten is another question entirely!
Make sure to use a good quality free range, large organic egg for this recipe. These days, organic eggs tend to be quite freely available in most places, and the difference in price between regular eggs and organic eggs tends to be really minimal. But the taste and way they react in recipes like this can be very different! As such an important ingredient in this low sugar mayonnaise, good quality egg equals good quality homemade mayonnaise, so it really is worth finding the best that you can for your budget. A visit to a farm shop or farmers market is also great for things like eggs, if they ever have them in your local area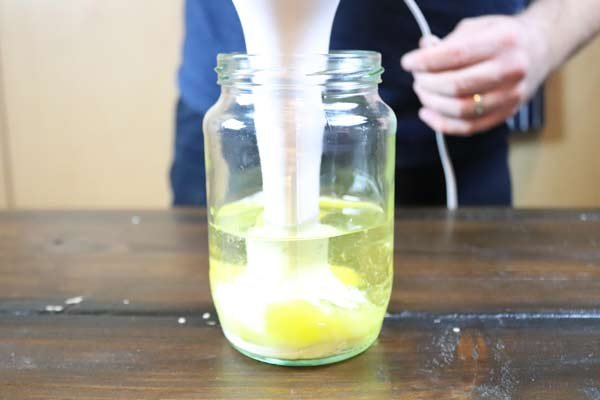 The other reason why it's very important to find the best quality, organic egg that you can is that this recipe uses raw egg. There are risks when it comes to raw egg, and so you have to make your mind up on this matter. We've never had a problem with this, and nearly all homemade mayonnaise recipes you'll come across will use raw egg, but you really have to decide for yourself, especially if children or older ones will be enjoying the mayonnaise. Again, we and many others have never had a problem with it, but you have to decide for yourself
The alternative to raw egg is buying pasteurized eggs, if you don't mind them. Pasteurized eggs are cooked briefly at a high temperature, just enough to kill off the possibly risky bacteria that raw eggs have a small chance of carrying
While you can buy pasteurized eggs, you can also make you own fairly easily. Place the full eggs (uncracked in their shells) in a saucepan. Bring the water to 140 degrees Fahrenheit using a thermometer and keep it at that temperature for 3 minutes (not allowing it to get hotter than 142 degrees Fahrenheit). Once this is done, remove the eggs and rinse them thoroughly in cold water. They are now ready to use for this homemade mayonnaise recipe, and have had the small risk of harmful bacteria eliminated, if that's what you want to do
When it comes to oil, you can make this recipe for mayonnaise by substituting some of the oil for olive oil. It's not possible to use only olive oil for the whole quantity as the taste of the olive oil becomes too strong. However, we prefer to use something with a little more of a neutral flavor, like sunflower oil or rapeseed oil. The choice is yours though. The important thing is that the quantities are right. We found that 1 cup of oil with 1 large egg works perfectly to get a smooth, creamy texture. It's not too oily, and not too eggy. It's important to start blending as soon as the oil is in to avoid splitting, but equally to allow the oil to gradually blend into the mixture so that a good combination is formed
Whatever oil you decide to use, it's always good to find the best quality that you can. This not only helps with the mixture not splitting, but can also make a big difference with flavor. Some cheaper oils may not taste right, whereas good quality oils are a very welcome taste and texture in a sugar free mayonnaise
There are a great variety of vinegars available in regular stores and supermarkets these days! It can be difficult to choose sometimes. We found that for sugar free recipes like this no sugar mayonnaise recipe, good quality apple cider vinegar or white wine vinegar are just right, because they have the delicious tartness that's needed for mayonnaise, while having a lovely, subtle sweetness to them that comes across just enough and really works well
Studies suggest that apple cider vinegar is the most popular type of vinegar used by natural health communities, and it sports a number of health claims, including help with weight loss, reduced cholesterol, and help to reduce blood sugar and symptoms of diabetes. Studies also suggest that apple cider vinegar can help to kill pathogens, including bad bacteria. On top of all those claimed benefits, it tastes good
Add a little salt, then the blending part is very straightforward. An immersion blender, or stick blender as some people call it, is exactly what's needed here. But it needs to be started gently by first holding it right in the bottom of the jar, and then turn it on. This allows everything to gradually start coming together, and for the oil to be slowly incorporated. Once that recognizable mayonnaise texture starts to appear, you can blend a bit more thoroughly to fully combine everything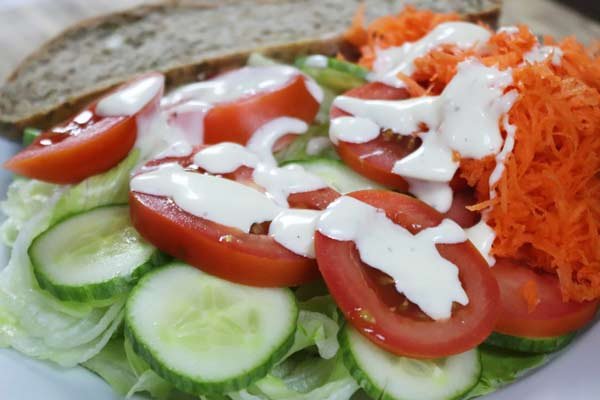 And that's it! That's all there is to delicious homemade sugar free mayonnaise. It's heart healthy, diabetic, and just so moreish. We hope you thoroughly enjoy this easy recipe and, like us, discover the joys of homemade no sugar mayonnaise over store bought mayo. For a delicious variation, try using this mayonnaise in our homemade salad dressing recipe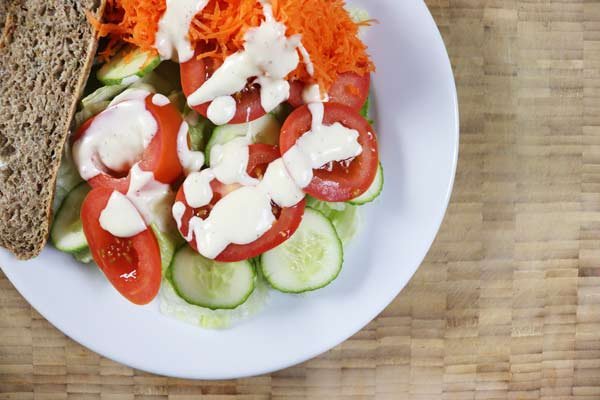 Sugar Free Mayonnaise Recipe
Recipe Category: Sauce, Condiment
Recipe Cuisine: French
Prep Time: 5 mins
Cook Time: 0 mins
Servings: 20
Calories: 100
Rating: ★ ★ ★ ★ ★
INGREDIENTS
1 Large Organic Egg
1 Cup Vegetable Oil (Sunflower or Rapeseed Oil)
2 Teaspoons Cider Vinegar (Or White Wine Vinegar)
Salt
RECIPE METHOD
Find a tall jar or container that will fit a stick blender/immersion blender inside, and has lid that can be screwed on
Break the egg into the jar. It's very important to use excellent quality organic eggs in order to be as safe as possible to use raw. However, if you really don't want to use raw egg, you can use good quality pasteurized eggs from the supermarket, or pasteurize eggs yourself – if you want to do that, see the method in the blog above
Add the vinegar, salt and oil
Put the stick blender inside all the way to the bottom of the mixture
Switch it on and blend for 20 seconds, keeping the blender still until the texture starts to form
Gradually and carefully blend until the oil is combined and an obvious mayonnaise texture has been created
If it doesn't work out, don't worry, just add another egg and repeat the process. You will still have mayonnaise but it won't be quite as thick. Alternatively, if the mayo is too thick, add a teaspoon of water at a time and blend until the texture is right
Enjoy! Keeps in the fridge for up to 2 weeks
Really Sugar Free Recipe Video: