Easy Bread Recipe | No Sugar
If you want a delicious artisan wholemeal loaf that doesn't need kneading, try this no sugar bread recipe. There's no need for sugar in wholemeal bread
Posted: 9th of May 2019
Does wheat bread have sugar? Surprisingly since whole grains are a healthy option, the answer is often yes when we look at the ingredients, and this is more often done with whole wheat flour than white. This seems to be because the sugar is added for a faster rise. Can you make bread without sugar? Yes!
This wholemeal bread recipe is so easy, you might not buy bread again. You do need a little time to allow it to rise but there is no kneading, and it's all done without a bread maker. Leave the dough in the bowl, cover it and leave in a warm place.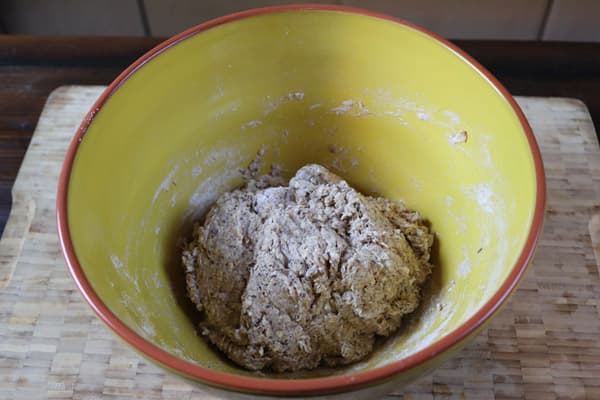 There are endless variations of bread with no sugar you can make with this recipe. Just swap the pumpkin seeds for any other nuts or seeds you like. If you want to miss out the oats, reduce the water to 400ml.
This no sugar bread recipe is so lovely just with butter, or we eat it all the time toasted as a starter drizzled with olive oil and balsamic vinegar.
Many recipes advise to add sugar, especially in whole wheat bread recipes, but it's really not necessary, the sugarless bread will still rise on it's own. The warm water helps to activate the yeast for a faster rise. There's no need for an exact temperature, just hand hot - so that it's not too hot to touch, but not luke warm either.
There's even no need for a loaf tin, it will hold its shape just fine while baking and you get an impressive-looking whole wheat artisan rustic loaf.
Just before your no sugar whole wheat bread goes in the the oven, you can brush with water and press seeds into the crust.
This sugar free wholemeal bread recipe is perfect for a plain salad sandwich, simple and healthy! Or serve your whole wheat bread toasted and buttered to dip in soup.
Easy Bread Recipe | Whole Wheat Bread Without Sugar
Recipe Category: Bread
Recipe Cuisine: International
Prep Time: 5 mins
Cook Time: 35 mins
Servings: 12
Calories: 209
Rating: 4.88 from 26 votes
INGREDIENTS
500g (3 1/4 cups) Wholemeal Flour
2 tsp Dried Yeast
1 tsp Salt
100g (3/4 cups) Pumpkin Seeds
100g (1 cup) Oats
450ml (2 cups) Warm Water
RECIPE METHOD
Mix all the dry ingredients together
Add the warm water and mix with a knife
Allow the dough to rise in a warm place for around 1 hour
Dust with flour and roll into a long loaf shape
Bake at 200 degrees celcius (gas mark 7 or 390F) for 35 to 40 minutes, until the loaf sounds hollow when tapped on the bottom
Really Sugar Free Recipe Video: