REALLY SUGAR FREE
Easy Sugar Free Recipes. Healthy, Natural Ingredients. No Artificial Sweeteners.
If you're looking for a simple and healthy week night meal, this sweet and sour chinese chicken recipe is quick and easy to make
Sweet and Sour Chicken with Pineapple
Posted: 24th September 2019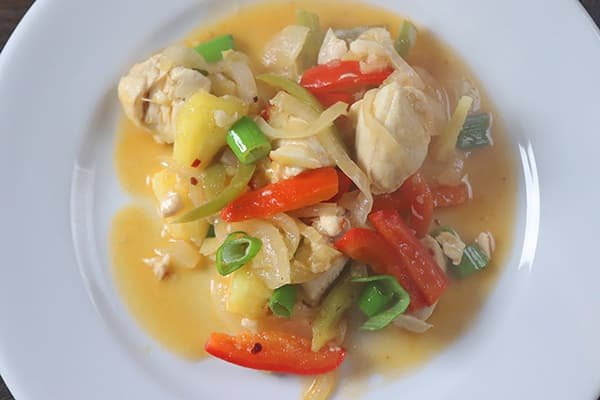 With this sweet and sour chicken recipe, you can have healthy chinese takeaway any time that is much more nutritious and much cheaper, but still just as delicious!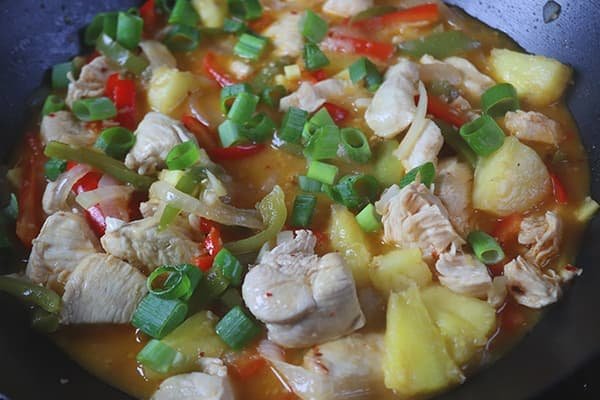 You tend to find a lot of things are added to chinese takeaway meals that aren't in authentic chinese recipes, so we've made sure that what we're making here is a true, fresh and healthy sweet and sour chicken recipe.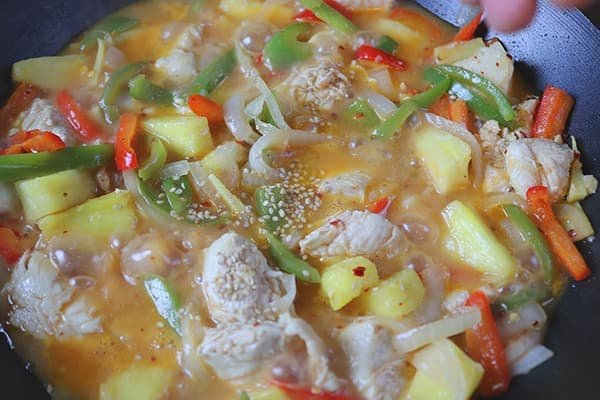 When you think of chinese food recipes with chicken, there is no more iconic combination than sweet and sour chicken with pineapple! We always use fresh ripe pineapple because it's so juicy and soft! You can really tell the difference over tinned pineapple, and it's healthy too.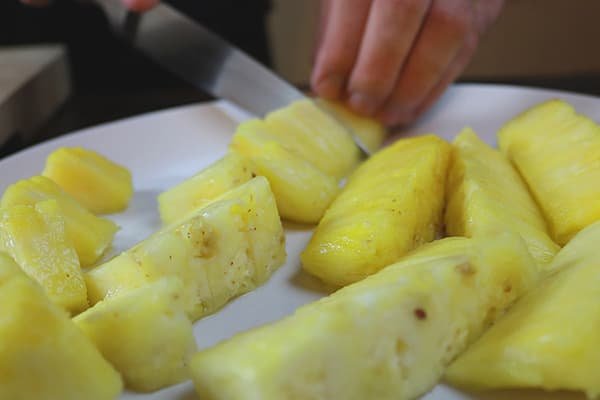 A little bit of soy sauce is sometimes added to these recipes, but as this is a sugar free recipe, and more and more people are concerned over soy, we've created this wonderful sticky chinese chicken without soy sauce.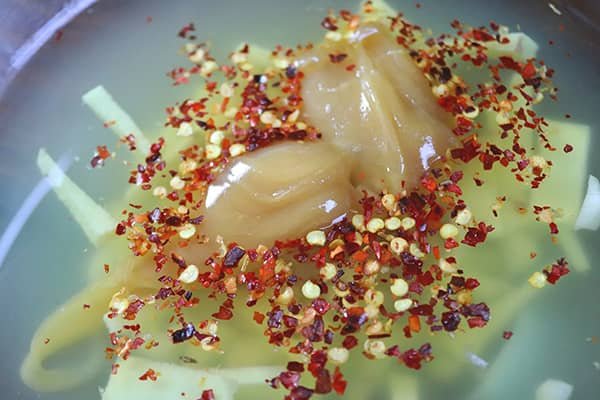 Rice vinegar, fresh garlic and ginger, raw honey and chilli come together in a mouth-watering mix of tastes that will fill your kitchen with a beautiful smell.
Onion, green and red pepper and sesame seeds combine with the pineapple for a beautiful array of colours and textures.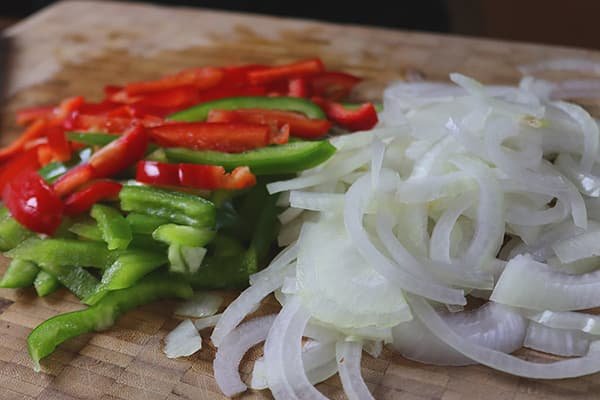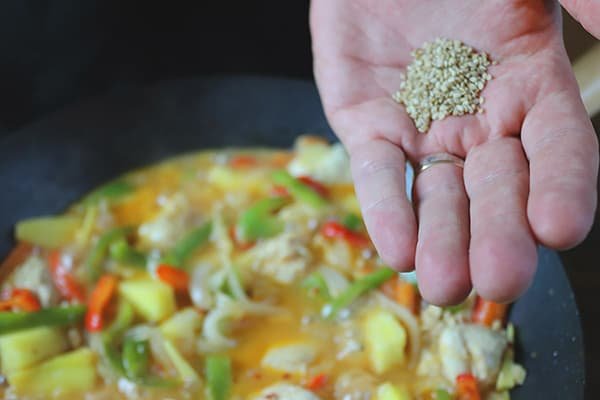 We make a separate thick pineapple sauce to pour on top towards the end of the recipe - this is what gives the sweet, sticky, shiny look that makes sweet and sour chicken so recognisable and delicious.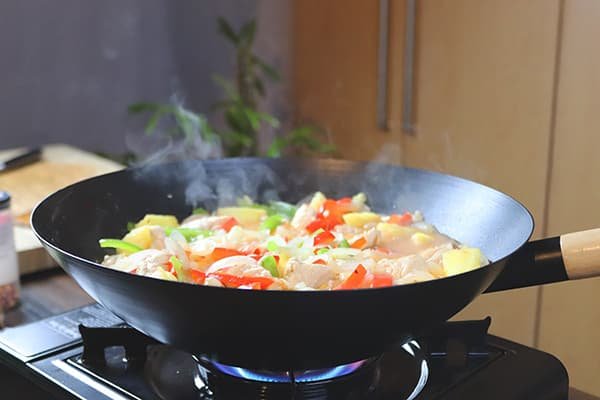 Garnish with thin slices of spring onion for that final aromatic, fresh pop with every bite of this beautiful chinese chicken recipe!
Sweet and Sour Chicken with Pineapple
Recipe Category: Main Meal
Recipe Cuisine: Chinese
Prep Time: 10 mins
Cook Time: 15 mins
Servings: 6
Calories: 226
Rating: ★ ★ ★ ★ ★
INGREDIENTS
500g Chicken Breast
1 Ripe Pineapple
3 Tablespoons Rice Vinegar
25g Fresh Ginger
4 Cloves Garlic
1 Green Pepper
1 Red Pepper
2 Tablespoons Tomato Purée
2 Tablespoons Raw, Unprocessed Honey
1 Tablespoon Chilli Flakes
3 Tablespoons Cornflour
2 Tablespoons Sesame Seeds
Spring Onion
Salt
RECIPE METHOD
Cut the pineapple in half. From one half, remove the skin and hard core, and slice into bite size chunks. For the other half, remove the skin and extract 200ml of fresh pineapple juice from it using a juicer, blender, or pressing through a sieve with a spoon, whatever you find works for you
Add two tablespoons of the pineapple juice to one tablespoon of cornflour, and mix well
To make the sauce - in a mixing bowl, combine the remaining pineapple juice with the rice vinegar, crushed garlic, thinly sliced onion, ginger and peppers, chilli flakes, tomato purée and honey. Stir until smooth
Dice the chicken breast and place in a bowl. Sprinkle the remaining cornflour on top and turn the chicken so it's lightly coated
Pour a little sunflower oil into a wok or large frying pan. Fry the onions and peppers on a high heat for 3 minutes
Add two tablespoons of the sauce to the pan, then the coated chicken. Fry, turning constantly until the pieces are just white all over
Season with salt, and then pour in the rest of the sauce and the pineapple chunks. Bring everything to a simmer and cook for 5 minutes, until the chicken is cooked through
Add the cornflour and pineapple juice mixture and sesame seeds and cook for a final minute
When it's finished, garnish with slices of spring onion and serve with a good portion of rice
Really Sugar Free Recipe Video:
Be the first to comment...