REALLY SUGAR FREE
Easy Sugar Free Recipes. Healthy, Natural Ingredients. No Artificial Sweeteners.
Sugar Free Ice Cream Cone Recipe
Posted: 26th August 2019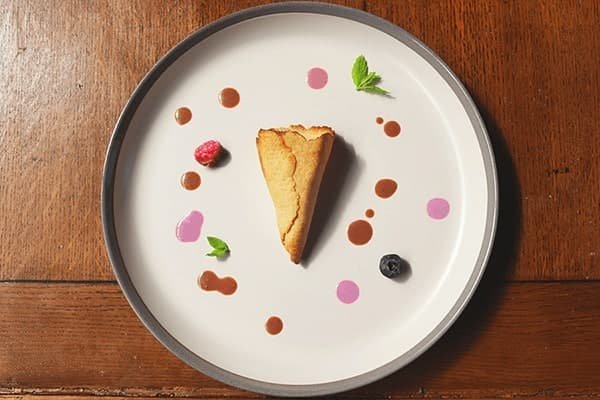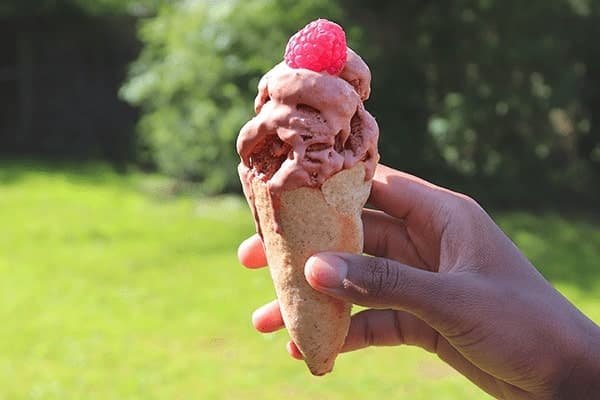 We looked everywhere for a sugar free ice cream cone recipe without artificial sweeteners. There were none! These are sweet, crispy and go perfectly with sugar free ice cream.
You use just a little honey which complements the ground almonds, and there is no oil used at all so these are only 124 kcal each! We used wild honey that involves no sugar feeding. Here's a blog that explains: Raw Honey Benefits Vs Processed Honey.
You can also add a sprinkle of cinnamon if you like it. We would, it reminds us of waffles.
Now to support the cones while baking: The dough isn't extremely delicate but it will need holding up, so we came up with a way to use a low-tech material most of you will already have to hand. Tin foil! Cut a rectangle a little bit taller than you want the cones to be. See the directions below on how to fold. They are more than strong enough to hold up the pastry if you're using the heavy duty variety, but if it's quite thin then you might want to double up the thickness.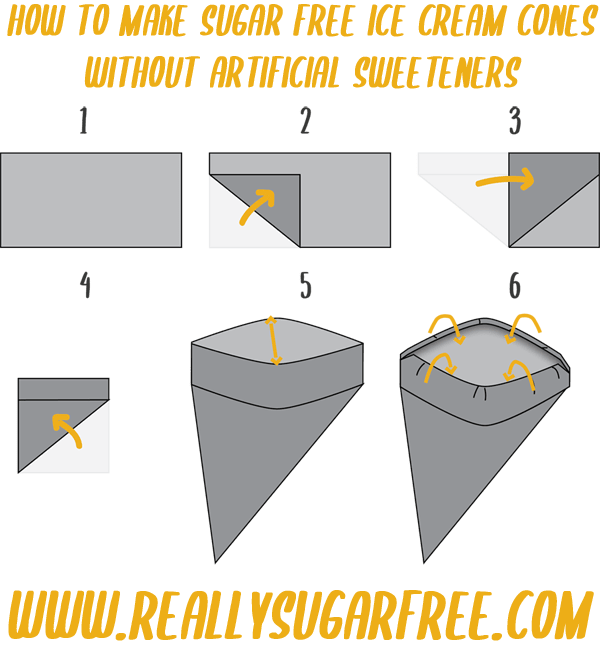 The dough will hold together better if you roll it out between sheets of baking paper, then gently roll it straight on to your foil cone. Make sure to seal the end before baking. As soon as it's cooled down, fill to overflowing with sugar free ice cream!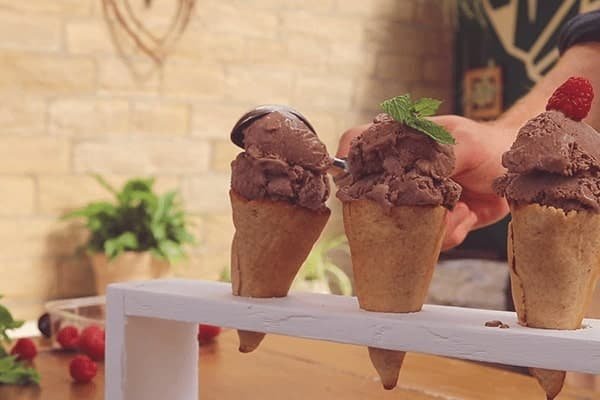 Sugar Free Ice Cream Cone Recipe
Recipe Category: Dessert
Recipe Cuisine: French, British
Prep Time: 15 mins
Cook Time: 15 mins
Servings: 6
Calories: 124
Rating: ★ ★ ★ ★ ★
INGREDIENTS
1 Egg White
3 Level Teaspoons Raw, Unprocessed Honey
70g Plain Flour
70g Ground Almonds
1 Teaspoon Baking Powder
1 Pinch Cinnamon
RECIPE METHOD
Preheat your oven to 200°c
Whisk the egg white and honey until combined
Mix in the flour, ground almonds, baking powder and cinnamon into a light dough
Make tinfoil cones to support the dough while baking, see the instructions above
Divide your dough into 6 balls and roll out to 2mm thick between 2 sheets of baking paper
Bake for 4 minutes upright, 4 minutes on the side, remove foil and bake for a final 4 minutes
Allow to cool then serve filled with one of our ice cream recipes!
Really Sugar Free Recipe Video: