REALLY SUGAR FREE
Easy Sugar Free Recipes. Healthy, Natural Ingredients. No Artificial Sweeteners.
Try this moist healthy cinnamony zucchini bread recipe with no sugar. The crust is decorated with walnuts which are toasted during baking, the centre is sweet and rich
Sugar Free Healthy Zucchini Bread Recipe
Posted: 9th February 2020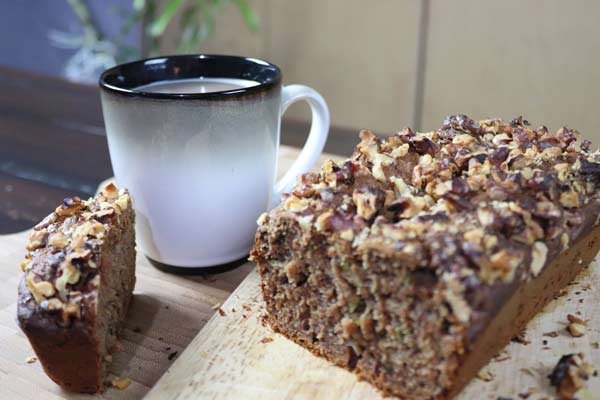 Did you know...
Zucchini bread comes from European sweet vegetable puddings dating back to the Middle Ages. After World War 2, zucchini was abundant in mainstream American home gardens, which meant: Too much Zucchini. Just like Thanksgiving turkey, the recipes spread across America. Zucchini bread became part of the American diet and in the 1960s and 70s it was promoted along with carrot cake and banana bread as a healthy alternative to sugary desserts. Is it actually healthier? It depended on the amount of flour, sweetener and fat used in the recipe. Generally the bread was made with fresh zucchini, which gives it its healthy image. Like banana bread, zucchini bread is not covered in sugar.
Zucchini bread is a deliciously moist, full-flavored bread that became popular in the 60s and remains a healthy crowd pleaser today.
Zucchini bread was originally full of zucchini, brown sugar, and vegetable oil, all of which were considered good for you in the 1970s.
Many surveys by independent researchers of American newspaper articles published in 1950s-1970s confirm the popularity of zucchini bread.
Fast forward to the 21st century and our understanding of what we would consider healthy has understandably changed.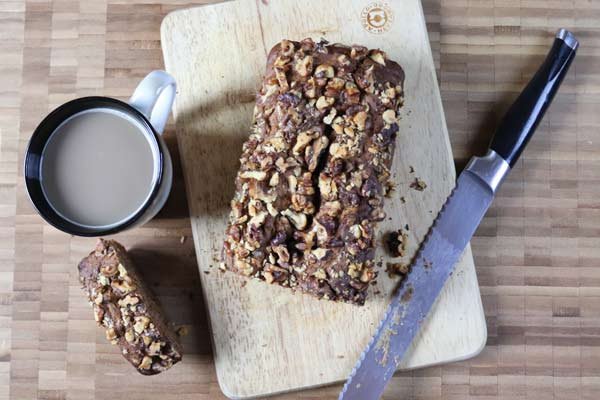 We are sure you will love this moist healthy sugar free Zucchini bread recipe...
Once the zucchini is grated, you'll need to squeeze out the juice. We used a teatowel, place the grated zucchini in the centre, gather up the cloth then twist it around as shown above so the zucchini is really squeezed and all the juice comes out. This cake will still be moist
Then you'll need to melt you butter and honey - either in a pan on a very low heat or a few seconds in the microwave
Whisk the eggs, butter, honey and vanilla essence all together until smooth
Then mix in the mashed banana and grated squeezed zucchini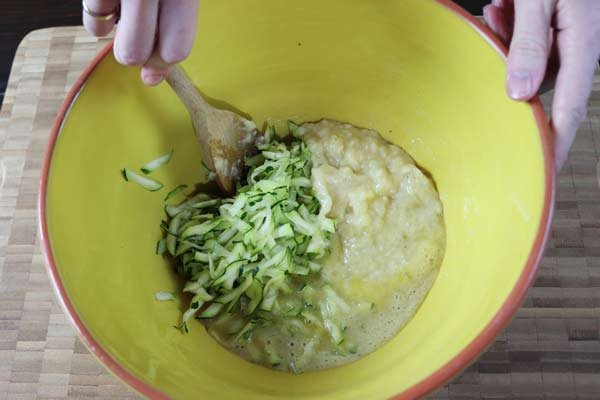 We used 2 teaspoons of cinnamon, you could add any sweet spices you like, nutmeg or ginger would also be delicious. We found that with the cinnamon and honey, this zucchini bread is reminiscent of gingerbread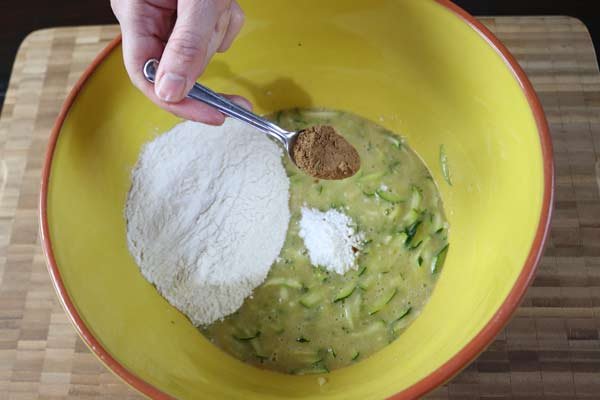 Mix in the flour, baking powder and spices thoroughly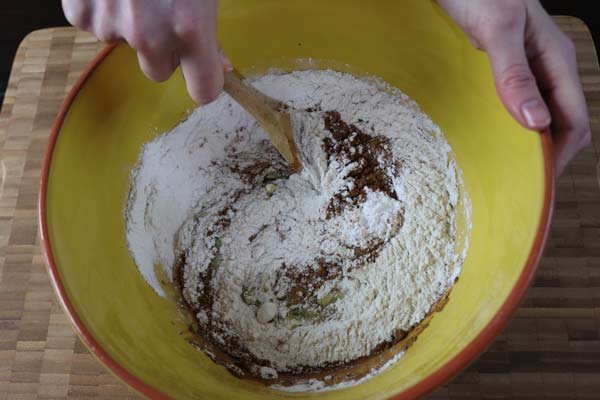 The cake mix will be quite wet, the result is a moist zucchini bread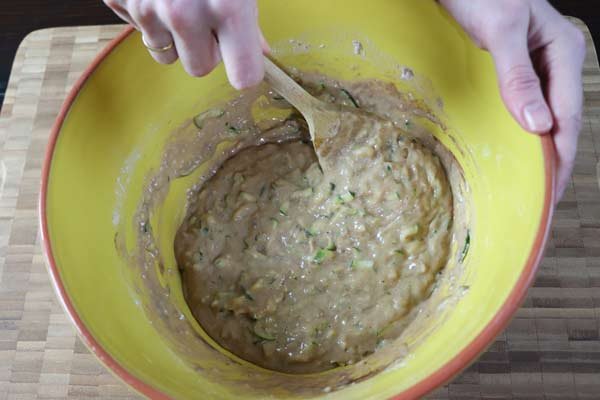 Scrape your mix into an oiled loaf tin, the tin should be about 4 inches by 8 inches. Alternatively these can easily be baked as healthy zucchini bread muffins and will need a much shorter baking time
For the topping, chop up the walnuts and press lightly into the top. These become slightly toasted during baking and add a delicious depth of flavor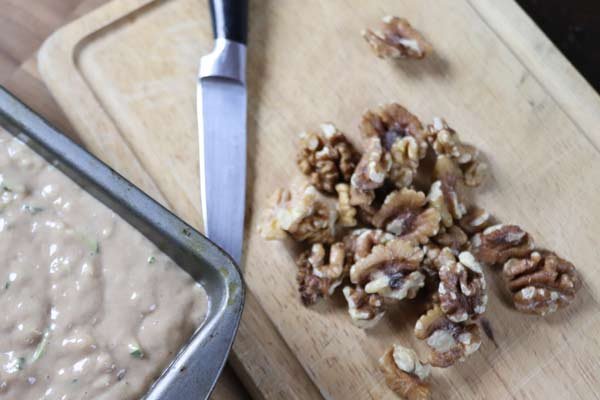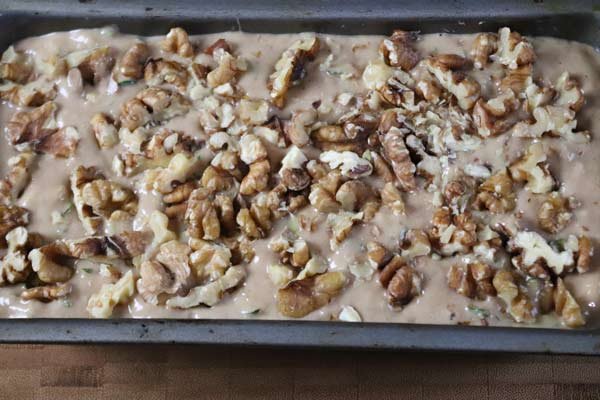 Allow to cool completely before slicing and serving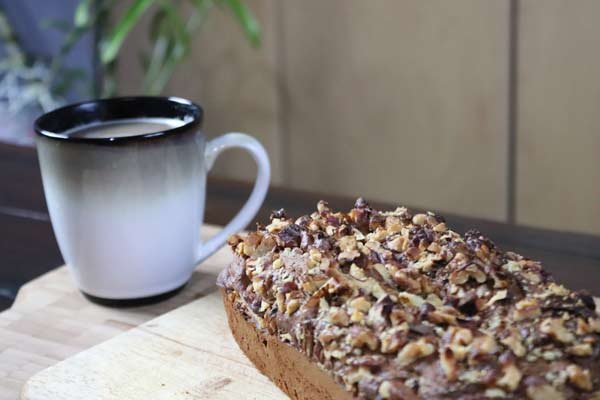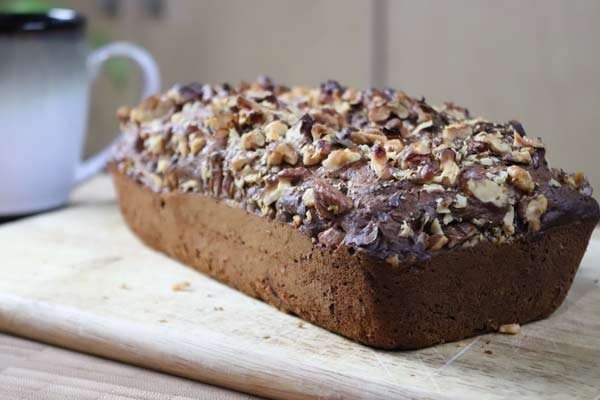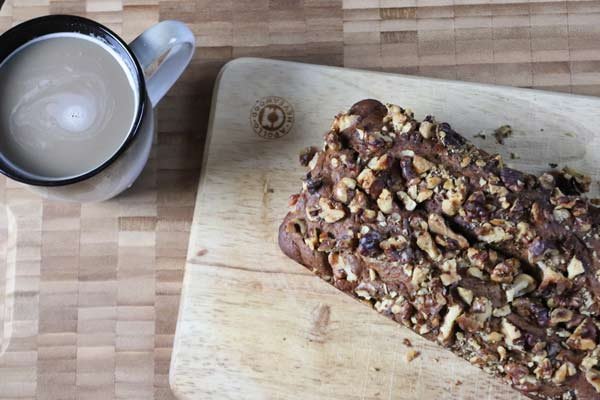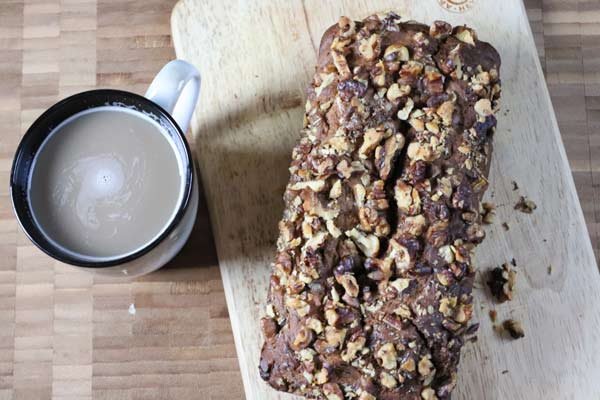 Recipe Category: Cakes, Desserts
Recipe Cuisine: American
Prep Time: 10 mins
Cook Time: 60 mins
Servings: 12
Calories: 180
Rating: ★ ★ ★ ★ ★
INGREDIENTS
225 grams Self Raising White Flour
1 teaspoon Baking Powder
2 teaspoons Cinnamon
100 grams Honey
200g Zucchini (Courgette)
50 grams Butter
2 teaspoons Vanilla Essence
2 Eggs
2 mashed Bananas
50 grams Walnuts
RECIPE METHOD
Preheat oven to gas mark 5, 180 degrees celcius (160 degrees for a fan oven)
Grate the zucchini, squeeze out excess moisture. Mash the bananas
Whisk the eggs, melted butter, honey and vanilla essence, stir in the zucchini and bananas
Mix in the flour, cinnamon and baking powder
Scrape into an oiled loaf tin, decorate with the chopped walnuts
Bake for 1 hour, or until a baking skewer comes out clean
Allow to cool before serving
Really Sugar Free Recipe Video:
Be the first to comment...