REALLY SUGAR FREE
Easy Sugar Free Recipes. Healthy, Natural Ingredients. No Artificial Sweeteners.
This is an exciting, bright, colorful no sugar popsicles recipe with tasty results that will keep everyone happy
Sugar Free Healthy Popsicle Recipe
Posted: 19th November 2019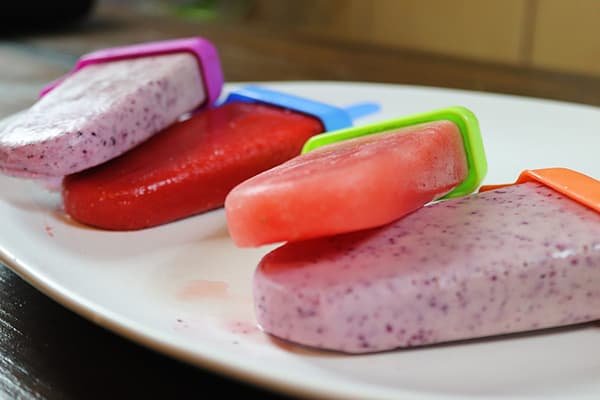 These sugar free popsicles make a wonderful healthy treat on a hot summer day! They are keto friendly, good for you, safe and all ok for diabetics, vegan, and made without aspartame or other artificial sweeteners. They are also a fantastic sugar free recipe to make with kids because they're incredibly easy to make homemade, not too messy, and kids absolutely love the loud buzzing sound of the blender if you choose a recipe that uses one!
An important reason why these make a great recipe for kids, apart from being tons of fun, is that these are entirely sugar free popsicles! So many popsicles that you buy in the supermarket are packed full of sugar – a couple of top American popsicle brands even have sugar and corn syrup as the second and third ingredients on their ingredients list, with the first ingredient being just water! You can see why so many parents would look for healthy alternatives as it really is best for kids not to be taking in this much sugar just for a treat on a hot day. So many end up wondering how to make sugar free popsicles. The good news is that it's as easy and cheap as juice, or fruit in a blender!
The important thing to note with this sugarless popsicles recipe is that the choice is really yours when it comes to the flavor! Do you or your kids want to make these sugar free popsicles tropical flavored? Simply mix organic pineapple juice and mango juice and pour into the molds! Perhaps your kid absolutely loves orange juice, or apple juice? These will work great for popsicles! There really is no need for all the sugar that goes into store-bought popsicles when fruit juice on its own has so much sweetness and flavor!
Juice is definitely a fantastic quick and healthy option, but because those sugar free popsicles are very straightforward to make, what we wanted to show here was our choice for three fruit popsicles with no sugar that are a little more interesting but just as delicious. This is where you can choose for yourself again – if you don't fancy the fruits we've chosen, you can blend all sorts of fruits to make beautiful flavors – blended mango, raspberries, apple, or a mix of almost anything you like. There are so many options for simple sugar free popsicles to fit whatever flavors you or your family like the most
Our first fruit flavored sugar free popsicle recipe is for watermelon popsicles with no sugar added. Watermelon is high in vitamin C which helps to maintain healthy skin, blood vessels, bones and cartilage. It is also high in vitamin A which helps to keep your body's immune system strong. However, while the health benefits might mean a lot to parents, the kids are unlikely to care as much. Thankfully, watermelon is so juicy, hydrating and sweet that the kids will love it! We put the watermelon popsicle with the green top to look like the watermelon shells – little touches like this make these sugar free popsicles even more colorful and fun for kids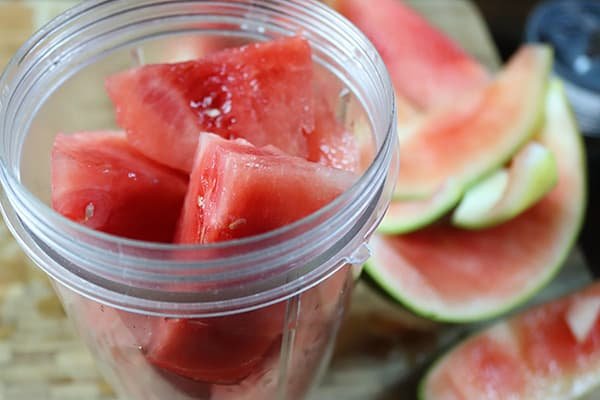 A fun job for the kids is to scoop the watermelon flesh from the shells. Make sure to remove the seeds so there's nothing to choke on. The shells can be used in some unusual recipes if you're into trying things like that, but if not, there's plenty of fun to be had with them when there are kids around! It can used as a bowl for sugar free ice cream, a cup for juice, a self-composting flowerpot, something to carve a face into, or even a silly hat, depending on how messy you want it to get!
Blend the watermelon until it's lovely and smooth and pour into the molds. 500g blended fresh watermelon should fill about 6 molds in a popsicle tray. We've just done the one to show what it looks like when it's finished. The watermelon popsicle was definitely a favorite
On a hot summer's day, many people turn to strawberries! It's easy to see why. These succulent, wonderfully sweet berries are so brightly colored, tasty and fresh that it just feels like taking a bite of summer. There is absolutely no need to sweeten these berries with sugar, they already have such a balanced sweetness and tartness, especially when they are blended, and all the parts of the strawberries mix together. All these reasons make strawberries a perfect choice for a juicy, refreshing sugarless popsicle recipe
When choosing strawberries, make sure to find some ripe, good quality ones. Find some organic ones if you can, that way you know you're getting the best available. When you've bought them, test one to see if they are sweet enough. You want the ripest, juiciest strawberries you can find for this sugar free recipe to taste right - watery ones will just turn to mush in the blender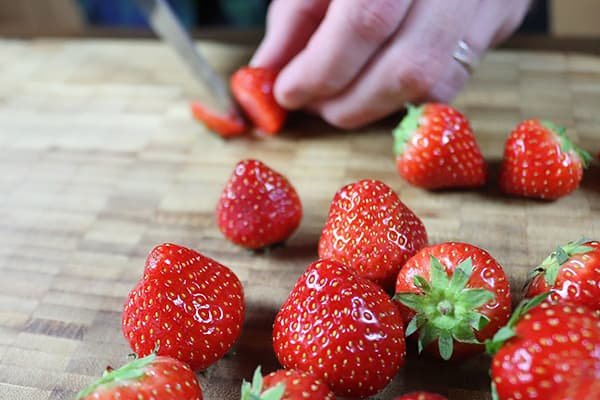 Don't worry about the strawberry seeds, some of them will get cut up in the blender, but the others add a tasty bit of texture to the popsicles. These sugar free strawberry popsicles are so tasty! One of the reasons is that the blended strawberry end up more like a sticky syrup than a juice, and so as the popsicle is melting when you lick it, the texture is lovely and satisfying, and different to the others on this list
When you pour any juice or blended fruit into a popsicle mold, make sure to fill it right to the top of the mold. The reason for this is that when you put the popsicle top/handle into the mold, it needs to go deep enough and spill over a tiny bit in order to freeze solid. If not, the handle might slip out without the popsicle itself because it hasn't frozen together properly. Pouring up to the top line will keep everything together and make removing the popsicles from the molds much easier
We absolutely love blueberries here at Really Sugar Free! We look for any excuse to use them in a recipe because of how bright, tiny and juicy they are, with just a little bit of sour to add another level of flavor. And so when it came to low sugar popsicles recipes, it's no surprise that we wanted to make a blueberry popsicle. The blueberry skins and flesh make a great texture when they are blended together, and the taste works wonderfully when they are frozen. But that's enough blueberry praise for now, let's explain what we've done for this particular recipe
6 popsicle molds full of just blended blueberries wouldn't necessarily work in the way that strawberries or other fruits would, and could end up very expensive too! So we decided to try a classic and popular combination – natural Greek yogurt and blueberries! Check that the yogurt doesn't have added sugar. Natural Greek yogurt or Icelandic yogurt should usually be sugar free, but it's always worth a check. Natural yogurt brands tend to be probiotic as well, meaning that it encourages good bacteria, which some studies suggest can help you to relieve sugar cravings when trying to come off processed sugar! So that's definitely a bonus for this particular popsicle recipe
Because of the little bit of sourness that comes along with blueberries and a little bit in natural yogurt, we felt this one needed a little sweetening. We did this with a teaspoon of two of raw, unprocessed honey. This not only sweetens the mixture up just enough, but puts together the combination of blueberries, yogurt and honey, which is very popular in lots of different recipes, particularly breakfast recipes, but works just as well for a sugar free popsicle! It's important to use the right sort of honey for a sugar free diet. Raw honey goes by a lot of different names – unpasteurized honey, wild honey – all sorts. If you're not entirely sure what we mean or if you'd like to know what type we use, have a peek at our blog Raw Honey Benefits Vs Processed Honey which will explain everything you will need to know. Of course, it's worth remembering that with the yogurt and honey, this particular one isn't a vegan or keto popsicle recipe like the other ones on this list are
With any of these healthy low sugar popsicles, you can use honey to sweeten them if you wish, just like we have for the blueberry and yogurt popsicles. It really depends on whether you think it needs it or not, or if kids enjoying them are used to more sugary treats. We certainly the sugar free popsicles work as they are, but honey is there as an option if you want it. The other option for sweetening the popsicles if you feel they need it is to make sugar free popsicles with stevia. Hold on though! We don't mean the strange-tasting artificial Stevia sweetener that many are put off by, we're talking about natural dried stevia leaf
Dried stevia leaf is a 100% natural dried herb just like dried basil or oregano or herbs like that. However, it has a strong, natural sweetness that can really help a recipe without the artificial processing of granulated sweetener. It's not hugely well known, but is cheap and easy to buy in bulk, and really worth stocking up because it comes in very handy! You can buy it here. We use it in all sorts of sugar free recipes because of how useful it is as a completely natural, healthy sweetener. Place upright in the freezer so they don't spill. They'll be done in a few hours, so if you're making these as a summer treat, it's worth making them in the morning so they're ready for that early afternoon heat.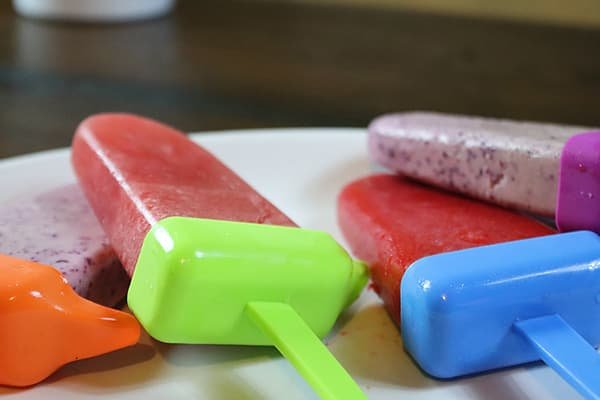 We really enjoyed making these sugarless healthy popsicles! The preparation of the fruits and juices, the careful pouring into the blender and the popsicle trays, and the ability to add tons of colors and flavors, topped off with 18 tasty ice popsicles to share around makes this a fantastic recipe to make with kids, or just as a simple sugar free treat to keep in the freezer for when the craving hits!
Sugar Free Healthy Popsicle Recipe
Recipe Category: Dessert, Snack
Recipe Cuisine: American
Prep Time: 5 mins
Cook Time: 0 mins
Freeze Time: 3 hours
Servings: 18
Calories: 48
Rating: ★ ★ ★ ★ ★
INGREDIENTS
Popsicle 1:
500g Watermelon
Popsicle 2:
400g Fresh Strawberries
Popsicle 3:
500g Greek Yogurt
150g Blueberries
2 Teaspoons Raw, Unprocessed Honey
RECIPE METHOD
Although we have used a popsicle tray with 4 molds just to show you what the popsicles look like, we would use 3 trays with 6 molds each for the quantity of ingredients above. This will result in 18 popsicles to enjoy – enough for a party!
Scoop 500g of watermelon out of the shell and remove the seeds
Place the watermelon in a blender or food processor and blend until smooth
Pour the mixture into the first 6 molds, right to the top line, and press the tops firmly into the molds
For the second set of popsicles, test one of the strawberries to make sure they are a sweet, ripe batch and not too watery or bland
Remove the stems and leaves from the fresh strawberries, rinse out the blender or food processor, and then place in the strawberries inside and, again, blend until smooth
Pour the strawberry mixture into the second set of 6 molds right to the top line, and press the tops firmly into the molds
For the third set of popsicles, rinse out the blender of food processor for the final time, and blend the blueberries, Greek yogurt and raw, unprocessed honey together until the mixture is a nice mix of purple and white
Pour into the third set of 6 molds right up to the top line, and press the tops firmly into the molds
Place all 3 popsicle trays upright in the freezer, and leave for a few hours until fully frozen
When you want to remove the popsicle, run the tray under a little hot tap water and it you should be able to easily slide them out. Enjoy!
Really Sugar Free Recipe Video:
Be the first to comment...