REALLY SUGAR FREE
Easy Sugar Free Recipes. Healthy, Natural Ingredients. No Artificial Sweeteners.
A healthy and filling simple granola recipe. One of the best ways to start your day with a sweet breakfast treat
Healthy Homemade Granola Recipe
Posted: 21st November 2019
There's nothing like crunchy homemade healthy granola for the best kick start to your day - to make it even better, this is a quick and simple sugar free granola recipe! So you can happily make a large batch of this lovely, healthy breakfast cereal and enjoy with peace of mind knowing you've made something that's not only delicious, but also nutritious, high protein and full of energy for the day ahead. I've eaten this granola every day this week for breakfast since we made the recipe, and I still can't get enough. I'll be making myself another batch this afternoon!
Granola makes a fantastic everyday breakfast cereal for people looking for some energy to get them through the workday, or people looking for a heart healthy, protein rich and fiber rich cereal that is sweet, nutritious and has a satisfying crunch to it. It's also a very popular cereal with hikers, climbers and walkers, because it's lightweight, easy to store, keeps fantastically for a long time, and full of the slow-burn energy needed for such activities, which comes from the oats, seeds and nuts
However, store-bought granola can have a couple of problems. Firstly, it can be very expensive! The kind we find in our local supermarkets come in small packets and have a high price tag. However, buying the ingredients yourself for your own homemade healthy granola recipe means that you can make a number of batches of the granola, one after the other, and you won't run out for a good while. The granola can even be frozen after it has cooled, which locks in that lovely freshly baked flavor and can be stored for weeks or even months. All you need to do is take a portion out of the freezer the night before and allow it to defrost for the morning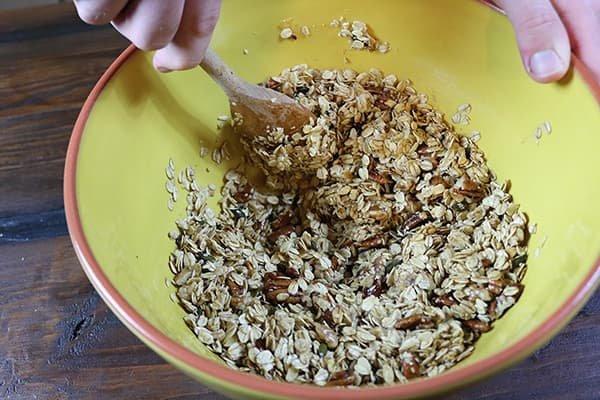 The other problem with store-bought granola is that they tend to be packed full of sugar and other things that really counteracts what granola should be – healthy and nutritious. So, for all these reasons, it's really worth making this homemade sugar free granola. You can save money by making it in bulk, it's a very nutritious and healthy start to your day, and, most importantly, it is an entirely sugar free recipe
For this sugar free granola, we use big, traditional jumbo rolled oats. They create a lovely texture, and make the granola clusters thick, tasty, and heart healthy. You can get milled porridge oats that are smaller and a little bit ground up, but it just doesn't work for granola, they're too small and powdery to get the crunch we're looking for. The biggest, chunkiest organic oats you can find are what you want for this sugar free recipe. The jumbo organic oats from our local supermarket were just perfect for this recipe, so it shouldn't be difficult to get hold of some yourself
We love to add pecans and walnuts to make this a high protein, crunchy granola recipe without sugar. While you can add whatever nuts you personally like, we love the sweet, satisfying crunch of pecans and the easy, soft crumble of walnuts. Especially when they are cooked, they drink in the flavors of the granola and add their own unique taste into the mix. We can't get enough of them! According to studies, Pecans contain monounsaturated fats such as oleic acid and phenolic antioxidants, which can help to reduce the risk of heart disease. Walnuts, on the other hand, are rich in antioxidants, a great source of omega-3, great for gut health, and may even reduce inflammation, if studies are correct. So, all in all, these are an absolutely fantastic addition to our granola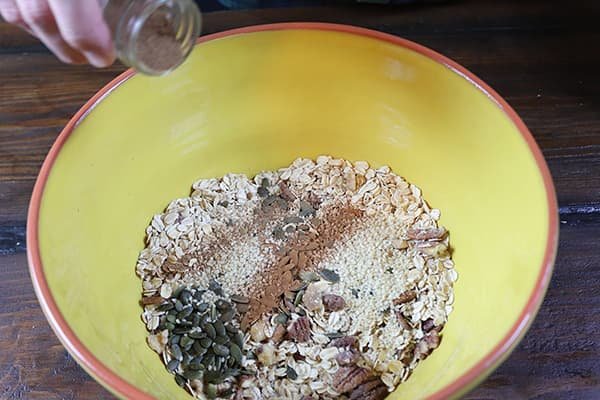 Speaking of flavor, we want to add a little warm winter spice with cinnamon and nutmeg. These lovely spices really come to life when toasted and combined with crunchy oats and honey. Less is usually more with these, so a teaspoon of each will do lovely. Cinnamon not only adds a sweet, natural fragrance, but it's good for your health – so good, in fact, that it's considered a medicine in some places! Nutmeg has a warm, distinctive scent and flavor, but it's also suggested that it helps with digestion, insomnia, blood pressure and circulation. So they are an important layer to this sugarless granola recipe, both in taste and nutrition
A little bit of salt goes a long way. Because this is a low sugar diabetic granola recipe, we want to make sure the flavors jump out, and that's what the salt does. It's only a small amount, but you really will be able to tell the difference. It's often overlooked that salt really has a place in many sweet recipes – there are very few recipes we've found where a little salt won't enhance the flavors and add a subtle maturity to the taste
For a little more of a crunchy texture in our sugarless granola recipe, we throw in the obvious, big bite crunch of pumpkin seeds with the more subtle crackle of sesame seeds. It all comes together wonderfully! Bit it's not just the lovely texture we're going for – there are a lot of nutritious benefits to these little treats. Pumpkin seeds have a lot of antioxidants, and are high in protein, potassium and vitamin B2. Add to this the sesame seeds, which are high in fiber and protein. It's suggested that they may also lower cholesterol and triglycerides. Nutritious and delicious!
The oil is also very important for that crunchy granola texture. Olive oil works very well for a low fat low sugar granola (low in saturated fats, anyway). But if that isn't important to your diet goals, and you want another layer of flavor, you can make this healthy granola recipe with coconut oil and that can work wonderfully. It's really down to your preference - some people aren't a fan or coconut oil, some swear by it, but for the sake of simplicity and neutrality in flavor, we stick to olive oil for this lovely recipe. Olive oil is also suggested to be rich in healthy monounsaturated fats and antioxidants, and to have some strong anti-inflammatory properties
Time to add the sweetness to this no sugar granola recipe! For a healthy refined sugar free granola, we use raw, unprocessed honey. If you're not sure what we mean by raw, unprocessed honey, or how this is different to regular honey, have a peek at our blog. It's important to use the right one for a sugar free or diabetic diet. We only use wild honey where the suppliers don't pasteurize the honey, and they have a no-sugar-feeding policy with their bees. There are a few different names used for this kind of honey so please do see our blog if you are not completely sure what you're looking for at Raw Honey Benefits Vs Processed Honey
To top off the sweetness, we use a couple of teaspoons of dried stevia leaf. Some may not have heard of dried stevia leaf - this is not the unpleasant-tasting artificial sweetener, it's the natural dried leaf itself (just like any other dried herb), usually sourced from Brazil, Paraguay, Japan, or even Greece, here's a link to purchase from eBay. It has a lovely, fresh, natural sweetness to it, and it's simple and cheap to buy in bulk. It's definitely worth stocking up! It's non-nutritive, which means it contains little to no calories, and hasn't been processed like the granulated sweetener, so doesn't have the artificial taste that many dislike
Finally, a little splash of vanilla extract to bring everything together and a little bit of crunchy stickiness to the mixture. Much like the salt before, this is an important addition to the mix for that subtle edge on the flavor. Vanilla can prevent sweet recipes from tasting bland by adding a lovely foundation for all the flavors. It also will really help with the texture and color of this sugar free granola
A good even spread of the mixture across the baking tray will make sure that the granola gets toasted and crisps up well. A high-sided baking tray will help make sure nothing spills over the edge and will keep the mixture neat and even for the baking process, which will really help to get the desired look and texture
After the sugar free granola has baked for 10 minutes, use a wooden spoon or spatula to turn everything over, mixing and stirring the mixture so that it all has the chance to get baked and toasted properly. You will start to see how the honey and vanilla extract is sinking into the oats, nuts and seeds. It looks so syrupy and delicious at this stage, I found myself wanting to start tucking in already! But it's worth the extra baking time for the crispy texture that we get in the end
If you are a fan of muesli-style grainy granola, leave everything as it is after stirring. However, if you want this to be a cluster granola recipe, press down on sections of the granola to squish it together, then it will cook in lovely, crunchy clumps that you can separate once it has cooled
Bake until it has achieved a delicious golden brown color, and then allow the mixture to cool completely. This will allow it to crisp up and settle without being disturbed. If you want the clusters, this will also mean the clusters can set too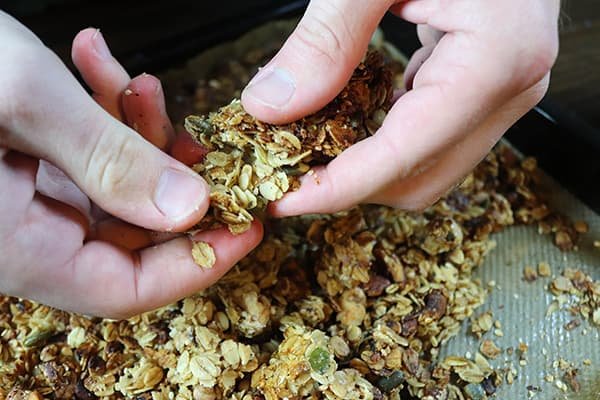 Once your no sugar granola has cooled completely, the easiest way to achieve the size of the chunks that you prefer is to get hands on. If you pressed the mixture down earlier, the mixture will likely be baked together a little like flapjack, so simply pull apart and separate with your fingers until you are happy with the look and texture. I really like big chunks in my granola, so I separated as little as possible and ended up with lovely, satisfying clusters of nuts, oats and seeds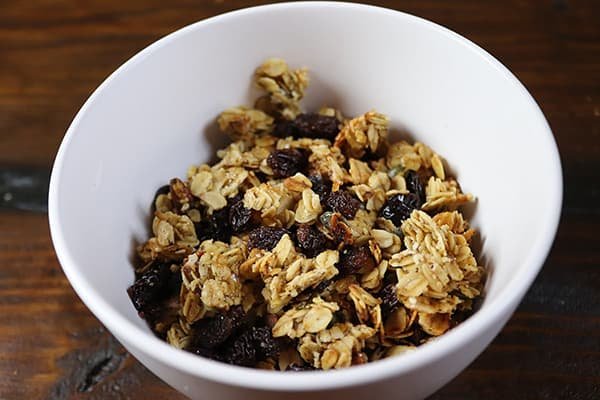 You can add whatever dried fruit you like – some people like to add a little coconut, some dried apricots or even banana chips! For us, raisins and dried cranberries compliment the honey and spices perfectly. Find some good quality dried fruit, organic if you can, and enjoy the juicy burst of flavors complimenting the crunchy deliciousness of the granola chunks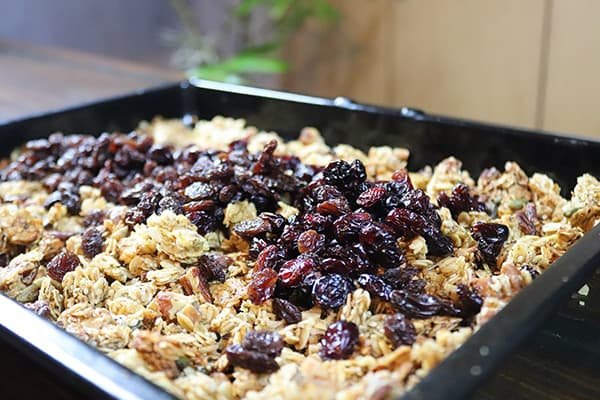 We can't get enough of this no sugar granola recipe! We'd love to hear how it turns out for you and what variations you come up, so let us know in the comments below
Healthy Homemade Granola Recipe
Recipe Category: Breakfast
Recipe Cuisine: American
Prep Time: 10 mins
Cook Time: 20 mins
Servings: 15
Calories: 225
Rating: ★ ★ ★ ★ ★
INGREDIENTS
350g Rolled Oats
40g Pecans
20g Walnuts
20g Pumpkin Seeds
20g Sesame Seeds
1 Teaspoon Cinnamon
1 Teaspoon Nutmeg
2 Teaspoons Vanilla Extract
118ml Olive Oil (or Coconut Oil)
4 Tablespoons Raw, Unprocessed Honey
2 Teaspoons Dried Stevia Leaf
60g Raisins
40g Dried Cranberries
1 Teaspoon Salt
RECIPE METHOD
Preheat the oven to 180 degrees Celsius (350 degrees Fahrenheit). Find a baking tray with a rim that isn't too shallow, and line with non-stick baking paper
Break up the nuts as much as you like, and then, in a large mixing bowl, combine them with the oats, seeds, cinnamon, nutmeg and salt
Add the oil, honey, dried stevia leaf and vanilla extract and stir until absolutely everything is well coated
Pour onto the lined baking tray and spread evenly with a wooden spoon. You don't want a lot of overlap
Bake for 10 minutes, then stir the entire mixture as well as possible, spreading evenly again once finished. Press down sections of the mixture with the wooden spoon if you want to have granola clusters in the mix. Bake for a further 10-15 minutes, until it's achieved a lovely color
Leave the tray of granola on a cooling rack for 1 hour, without touching it at all. Once it's cooled, sprinkle the dried fruit, and break into pieces, storing in an airtight container. It will store like this for 2 weeks, or you can even freeze the granola in a sealed container for that locked-in freshly baked taste – just take it out the freezer and allow it to defrost fully before enjoying for breakfast!
Really Sugar Free Recipe Video:
Be the first to comment...