REALLY SUGAR FREE
Easy Sugar Free Recipes. Healthy, Natural Ingredients. No Artificial Sweeteners.
Baked salmon has healthy Omega-3 oils but this meal always feels like a naughty treat
Healthy Baked Salmon Recipe
Posted: 5th December 2019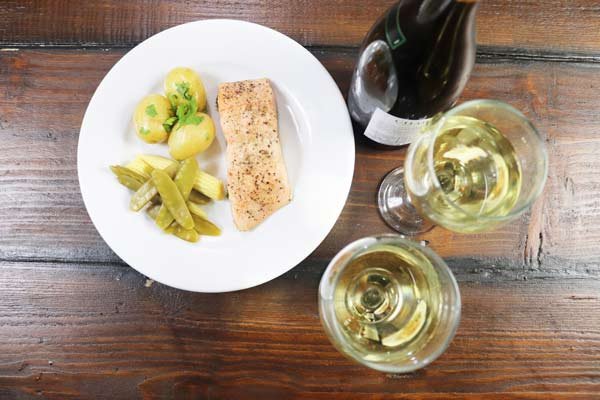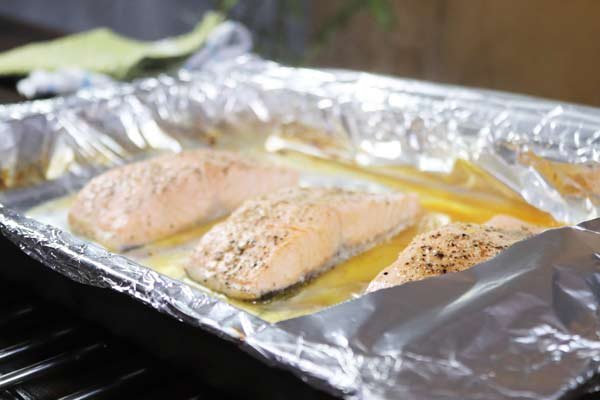 Is this the best baked salmon recipe in the world? We've eaten a lot of baked salmon recipes and this tops anything we've tried. It's healthy and easy to bake in the oven
It's best to leave the skin on the salmon, because it flavors and infuses the meat while baking. If you bake the salmon skin side down, once it's baked, it's easier to lift the salmon off the skin with a spatula to serve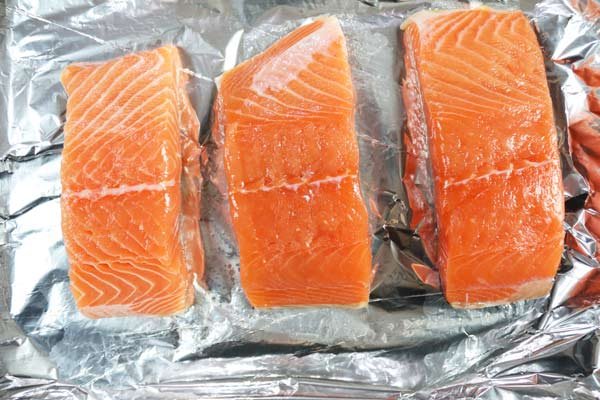 When you line the tray with foil ready to bake this salmon, make sure to leave enough foil overlapping the edges so you can get an airtight seal when you seal the top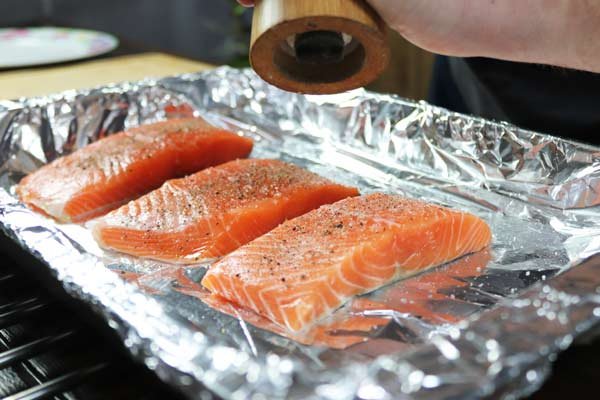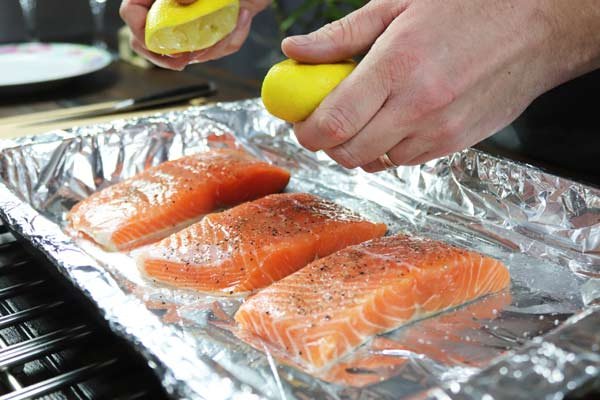 This salmon recipe with lemon and poached in wine ends up so juicy and tender, it just falls apart
Try to use a wine that's good enough to drink. If it's good enough to drink, then it's good enough to cook with. We looked for good quality Chablis to bake this salmon in. You don't have to have a massive budget, but we'd recommend you try the wine before you cook with it
It's best to get as much of an airtight seal as possible when you bake the salmon in foil so that you hold in all the moisture. This means the salmon won't dry out, it will be really succulent and it holds in all the flavor of the wine and lemon. We've poached salmon in the pan with white wine before and it's really nice, but using this oven baked version is even more delicious and a great timesaver. You simply bake it in the oven, and because it's in foil you don't have to keep turning it like you would in a pan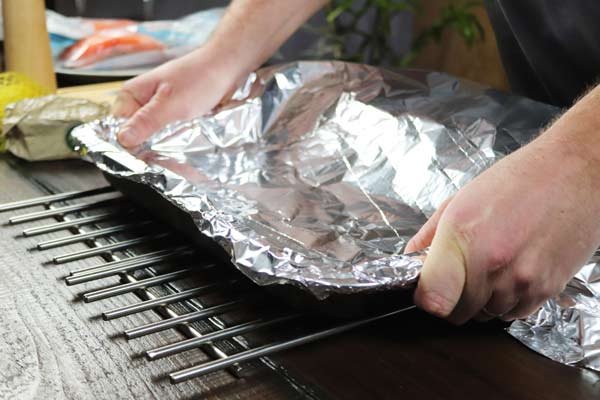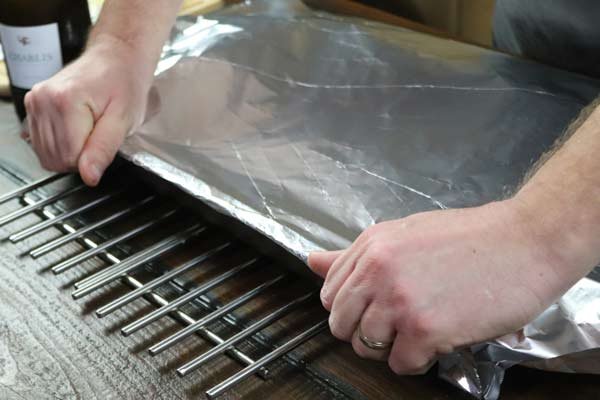 Careful when you open the foil, the hot steam will be under pressure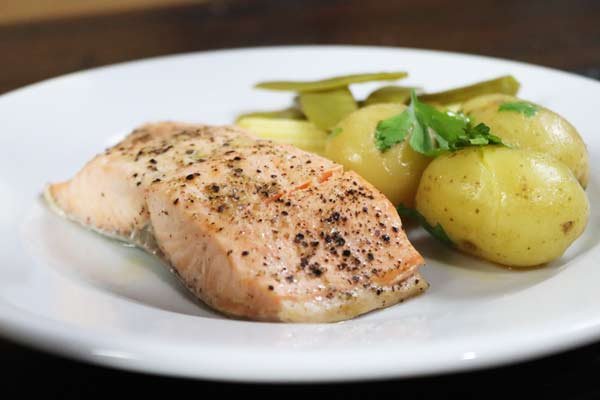 Serve with a glass on white wine, steamed vegetables and new potatoes in butter and parsley. When I see these pictures I can't wait to make this again. The preparation takes only 5 minutes, it's healthy too with all natural ingredients. We all know salmon has healthy Omega-3 oils but this meal always feels like a naughty treat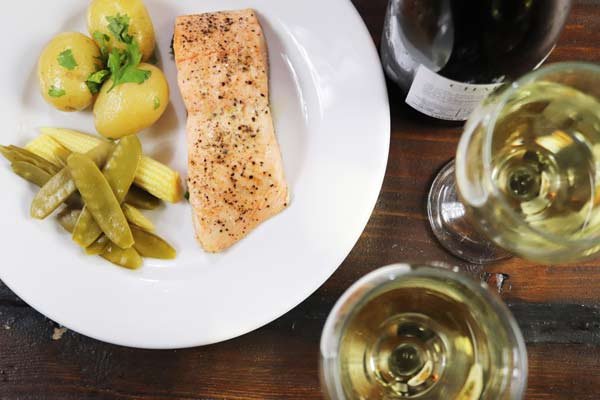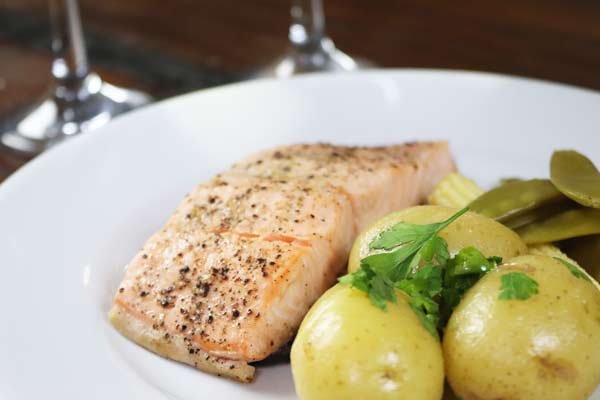 Healthy Baked Salmon Recipe
Recipe Category: Main Meal
Recipe Cuisine: International
Prep Time: 5 mins
Cook Time: 40 mins
Servings: 4
Calories: 310
Rating: ★ ★ ★ ★ ★
INGREDIENTS
4 Salmon Fillets
1 Glass of Good White Wine
Juice of 1 Lemon
50g Butter
Salt
Pepper
RECIPE METHOD
Preheat oven to gas mark 7 (425°F or 220°c)
Line a tray with foil and place the salmon skin side down
Pour over the lemon juice and wine, season with salt and pepper
Add a knob of butter to each fillet
Seal with another sheet of foil, making sure to seal the edges as tightly as possible
Bake for 40 mins
Really Sugar Free Recipe Video:
Be the first to comment...