REALLY SUGAR FREE
Easy Sugar Free Recipes. Healthy, Natural Ingredients. No Artificial Sweeteners.
These are so tasty, it's surprising we got any photos before we ate them all! Stack them high with generous toppings and enjoy.
Banana Pancake Recipe - Really Sugar Free
Posted: 15th September 2019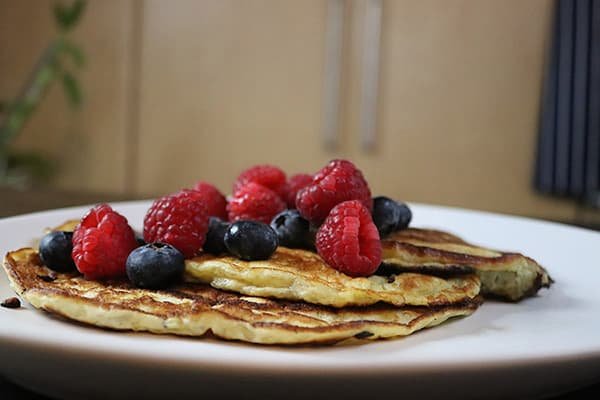 This easy fluffy banana pancakes recipe is healthy, delicious, and perfect for anyone looking for breakfast pancake ideas to brighten up those lazy weekend mornings!
The secret to making these banana pancakes tasty, healthy and sugar free is using the ripest, brownest bananas you can find. These make the pancakes so sweet and soft.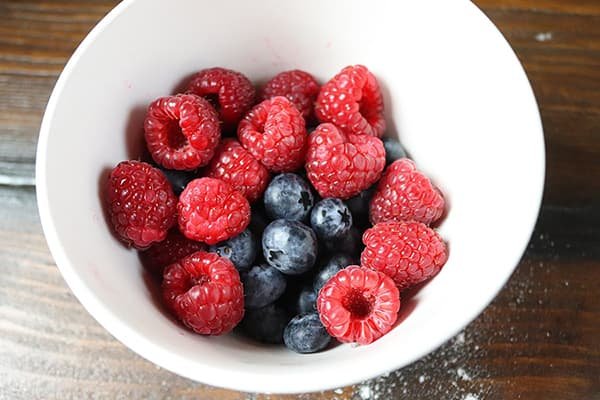 For healthy pancake toppings, we think blueberry and raspberry work wonderfully (you can even add a handful to the batter itself for tasty american blueberry pancakes). Also, check the end of the recipe down below for a really simple 2 ingredient creamy sauce to pour on top that's completely sugar free!
Ripe banana and fresh eggs work so well together to create a beautiful, fluffy texture.
A little baking powder and flour keeps everything together, and gives a nice little rise to the pancakes.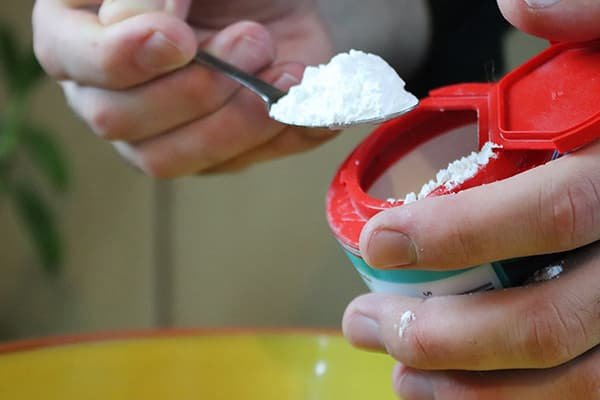 The recipe makes about 6 pancakes, so multiply the recipe for however many hungry mouths there are to feed. However, if this is banana pancakes for one, you can always pour out lots of the batter and have a stack of bigger pancakes all for yourself!
You can store the batter in the fridge for a few days so there's always a batch ready for when the pancake craving hits.
Fry on a medium high heat, and make sure not to overcook.
Flip the pancakes in one quick, confident move, not lifting them up too much, and they will cook lovely and even.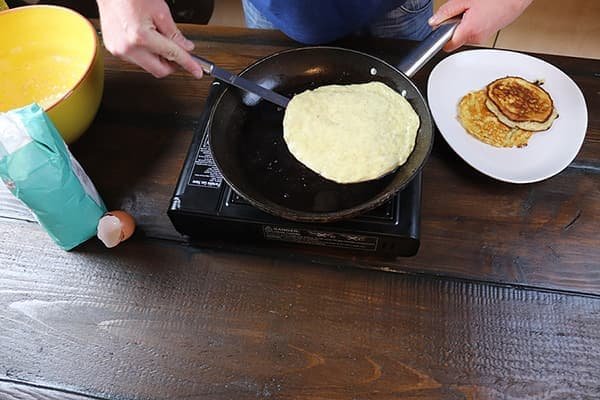 We use a vegetable oil that is pretty much flavourless, like sunflower oil, in order to not affect the taste of the pancakes.
These are so tasty, it's surprising we got any photos before we ate them all! Stack them high with generous toppings and enjoy.
Banana Pancake Recipe
Recipe Category: Breakfast, Dessert
Recipe Cuisine: International
Prep Time: 10 mins
Cook Time: 15 mins
Servings: 6
Calories: 88
Rating: ★ ★ ★ ★ ★
INGREDIENTS
2 Very Ripe Bananas
1 Teaspoon Vanilla Extract
2 Teaspoons Baking Powder
2 Eggs
6 Tablespoons Plain Flour
Vegetable Oil
Fresh Berries
Raw, Unprocessed Honey
Double Cream
RECIPE METHOD
With a fork, mash the bananas very well in a large mixing bowl
Add the vanilla extract and baking powder, and mix until smooth and combined
Add the eggs, and whisk everything together with the fork
One tablespoon at a time, add the flour, mixing as you go, until you have a lovely even batter. Put to one side.
Heat a frying pan on medium heat and add a drizzle of vegetable oil. Move the pan around to make sure the oil covers the bottom of the pan
Pour in a ladle-full of pancake mixture, and shape with a spatula
Allow to fry until the top is starting to bubble and the bottom feels sturdy enough to hold together
Gently but quickly release the edges of the pancake with a spatula, then slide it all the way under the pancake and flip it to the other side
It should only take a minute to cook on the other side. Remove from the pan once it's finished and lay on a plate. Repeat the process until you have a tasty pancake stack
We find these go really well with fresh blueberry and raspberry. Add 1 teaspoon of raw, unprocessed honey to a cup of double cream and stir until really well combined for a delicious, easy sugar free sauce to drizzle on top!
Really Sugar Free Recipe Video:
Be the first to comment...